EU seeks Turkish help to solve migration crisis
Comments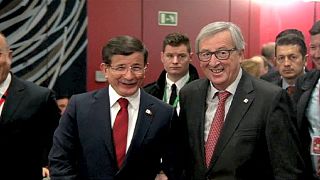 EU leaders are turning to Turkey as the bloc continues to struggle with solving the continent's refugee crisis.
Brussels wants Ankara to toughen up security at its borders to halt the flow of migrants making the crossing by sea to Greece.
In return, Turkey expects three billion euros in financial help; the government says it has spent more that 8 billion US dollars on hosting refugees and that the international community needs to do more.
The move towards Turkey comes after a flagship EU policy backed by Germany to relocate 160,000 migrants looks to have failed.
Just 158 have been relocated so far.
The Turkish government hopes there will be progress on its long-stalled EU membership application.
But officials say there are serious concerns about Ankara's respect for the rule of law, especially freedom of expression.
Euronews correspondent Sandor Zsiros reports that the meeting is the sixth EU summit this year aimed at solving migration crisis.
He says there is unusual unity amongst the 28; even Hungarian Prime Minister Viktor Orban supports an agreement with Turkey to keep migrants out of the EU.