EU and Turkey agree 3 billion euro migration deal
Comments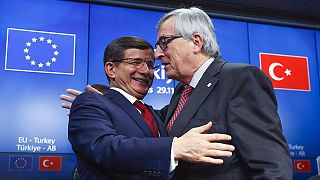 A crisis that EU leaders have been unable to solve alone.
The UN expects more than one million refugees to arrive in Europe by the end of the year.
So governments have turned to Turkey, which shares borders with Syria and Iraq.
Ankara is now asking that its long-standing membership application to be sped up.
Turkish Prime Minister Ahmet Davutoğlu pledeged that his government and the EU would "work shoulder to shoulder regarding the refugee crisis."
Turkey will get some three billion euros to help refugees in return for stemming the flow of migrants to Europe.
Visa-free travel for Turkish citizens to the Schengen zone is also part of the deal if Turkey keeps its promises.
Still reeling from the attacks in Paris, the president of France said tougher border checks are needed.
"There is a need for checks on people who pass through the Turkish territory, and we know that there are foreign fighters who have that intention and who use this route, and secondly there are also terrorists who could infiltrate: we have seen that in attacks in Paris," said French President François Hollande."
Officials also agreed that there would be two EU-Turkey summits every year from 2016.