Turkey: EU report highlights 'backslidings' in media freedom and judiciary
Comments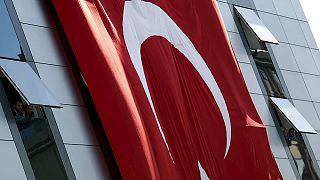 Turkey is being urged to lift restrictions on media freedom, respect human rights and relaunch peace talks with Kurdish militants. It comes in the European Commission's annual progress report on the country's EU membership bid.
There is also concern over President Tayyip Erdogan's push for a constitutional overhaul that would give him greater powers.
But the EU executive's criticisms are cloaked in diplomatic language, reflecting the political sensitivity of dealing with a large, strategically important country whose cooperation is needed by Brussels – as it seeks to tackle Europe's migrant crisis.
"There are some backslidings in the area of freedom of media, freedom of expression, the judiciary," said Johannes Hahn, EU Commissioner for Enlargement.
"On the other hand, one can notice a positive track record in the economic development so, like often, the picture is a mixed one."
The report – whose publication was delayed until after Turkey's election – praises the country for sheltering millions of Syrian refugees.
The Commission wants it to take more in return for easier EU access, cash and an acceleration of membership talks. Hahn was due to fly to Turkey later on Tuesday for talks on the migration issue.
Decade-long accession talks with the European Union have largely stalled.
The Commission report comes at a difficult time for Turkey, where fighting has resumed between security forces and militants of the Kurdistan Workers Party (PKK) after the collapse of a ceasefire.
Prime Minister Ahmet Davutoglu told state broadcaster TRT on Tuesday that his new government would pursue major economic, social and judicial reforms in the next six months, without giving details. He also called for an executive presidential system.