Turkey 'won't beg for EU membership', as tables turn
Comments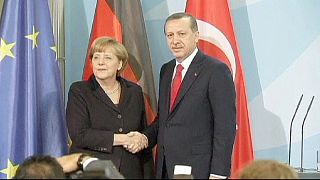 The publication of the European Commission's annual report on Turkey coincided with the day on which the founder of the modern republic, Kemal Ataturk, was honoured.
In the 1920s, Ataturk launched a wave of reform in many areas, seeking to create a nation in the image of European democracies.
Last year, President Erdogan put Turkish pride into clear terms:
"Turkey is now a powerful country. Turkey is no longer a country that would beg at your door. Turkey can stand alone, and with its determination Turkey would join the EU if it were accepted. If it were not, it would make its own road."
One year later, after this harsh report from Brussels, Erdogan may be giving Turkey's 'own road' serious thought. Elections have handed his AK Party, the rulers since 2002, four more years in power.
Turkey signed up as an associate member of the European Economic Community, precursor of the EU, in 1963. Full accession negotiations with Turkey began in 2005. Cyprus problems and the slow pace of Turkish reforms bogged the process down. But Austria and Germany made clear they only favoured a privileged partnership, anyway, and France's then president Sarkozy added his voice to theirs, while saying he would not block negotiations.
German Chancellor Merkel would lead several other EU states to delay opening a new round of talks when Ankara cracked down violently on anti-government protests two years ago.
Then Syrian war refugees brought a reshuffling of the cards. Now Europe needs Turkey to help manage the huge numbers.
Merkel softened her opposition, calling full membership "an open-ended issue" when she visited Erdogan last month and gave new EU-Turkey talks her support, though Ankara is much cooler to the prospect now.
Ankara calls the criticism in the report "unjust and disproportionate", and where Erdogan is concerned "unacceptable".