Libya on the brink: amid civil war fears and growing ISIL threat what's the EU doing?
Comments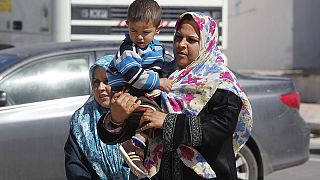 Four years after the violent overthrow of Muammar Gaddafi Libya is once again in the grip of a bloody power struggle. With rival administrations claiming to be the legitimate authority the country is facing the prospect of all-out civil war.
ISIS (in Libya) is doubling and tripling by the day and we cannot just wait for resolutions and just keep talking about what should be done once a unity government is formed.
In this vacuum ISIL has established a firm foothold, bringing the threat of jihadist violence ever closer to the shores of Europe. In this edition of The Network Chris Burns seeks answers to the tough questions arising from this complex situation.
His panellists are: Farida El-Allagi, Chargée d'Affairs of the Libyan Mission to the EU; Miriam Dalli, Maltese Socialist, Member of the European Parliament's Delegation for relations with the Maghreb countries and Marc Pierini, visiting scholar at the think tank Carnegie Europe, and a former EU ambassador to Libya.
Watch the video to find out more.