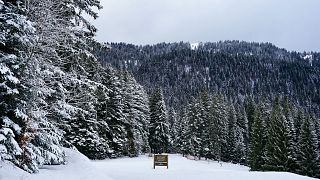 -
Copyright

Ophélie Barbier - Euronews
By Ophelie Barbier and Valentine Hullin
We wait for snow with the same impatience every year. But in some parts of France, the wait is getting longer and longer. When the white powder finally falls, it is often far less than we saw in the past. In fact, average snowfall has dropped by 40% in the last 30 years in the area of the Chartreuse Mountains our reporters visited.
Snow is key to many businesses, as well as leisure activities that brighten up long winters. But it is wildlife and biodiversity that suffers from the worst long term consequences. 
Changes in weather patterns have a knock-on effect on many parts of nature
In Sarcenas, a French town near Grenoble, everything is white in mid January. But there is little reason to rejoice, says Simon Lebret, a forester in Chartreuse national park.
"We are in mid January but this is one of the first snowfalls when it should have been for several weeks or months already," he says. "Around us we see plants that need snow and cold for their cycles, and seeds that need frost to germinate".
The lack of snow creates a cascade of consequences, particularly for food chains. The vegetation period of plants is longer but the quality of the forage is reduced. Animals, too, are forced to adapt to the changing seasons.
Why is it important that it snows?
Snow, that mixture of ice and air, is much more important than we might think. It is essential to the entire ecosystem.
Gregory Loucougaray, a researcher in plant ecology at the French National Research Institute for Agriculture, Food and the Environment, explains that the lack of snow has many consequences.
"There are both positive and negative effects on vegetation. For example, a decrease in snow cover or earlier snow removal in the spring allows vegetation to develop for longer during the season.
"It is considered that since the 1980s, at an altitude of 1,500m, vegetation starts two to three weeks earlier. This leads to a lengthening of the vegetation period."
Compared to the 1990s, the Col de Porte mountain pass has lost much of its snow cover. "In 30 years, we have lost 40% of the average snow cover here in Col de Porte. That's almost half. That's a huge number", says Marie Dumont, director of the Centre for Snow Studies.
How can we help?
Staying on the ski slopes, not going off-piste and keeping the noise down when out walking are great ways to protect snow, says forester Simon Lebret.
To keep our winters white, we need to slow down global warming and anticipate its consequences now. For us as well as for the rest of the living world
Watch the video above for more on the changing climate around Grenoble.