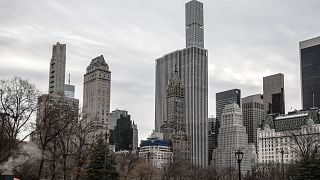 Blizzards engulfed part of New York State last month - but in New York City, there's no sign of snow.
The Big Apple has gone 321 consecutive days without snowfall, according to the US national weather service.
If it there's none in the next two weeks, the city will beat its all-time record for longest snow-free period. The current record of 332 days was set in 2020.
Such balmy weather is uncommon for January, says Andrew Kruczkiewicz, a researcher with Columbia University's Climate School and International Research Institute for Climate and Society
"I think we need to look back at the historical record of snowfall to get a better sense of really how rare this is," he explains.
The city has never had recorded a snow-free January. 1973 - when it didn't receive any substantial flurries until 29 January - currently holds the record for latest winter snowfall.
But nearby areas have not suffered the same lack of winter weather. In December, huge blizzards engulfed part of New York State.
Is climate change to blame for New York's non-snowy winter?
The lack of snow is being caused by a combination of factors.
Climate change is warming the air, making it more likely that precipitation falls as rain. New York's 30-year winter temperature average has increased by a full degree in the past decade.
However, the lack of snow is not solely attributable to global heating, Kruczkiewicz explains.
"It's a combination of rising temperatures related to climate change and also natural variability that happens," he says.
"We do see these shifts, decade by decade trends in snowfall. So, I think asking questions about the links to climate change, yes, we need to do that. We also need to look at natural variability and the role that plays."
This year, the first 17 days of January were the third warmest on record with an average temperature of 6.5 degrees Celsius.
The La Nina wind pattern is also keeping the snow away from the city, as jet streams push winter storms inland. This phenomenon is partially to blame for the heavy blizzards that hit parts of New York state last month.
Even if the snow is late, that doesn't mean it won't arrive, Kruczkiewicz adds.
"It is definitely rare, but we have a lot of, we have a lot of winter left," he says.
"February is actually our snowiest month here in New York City, here in Central Park. So, it is important to keep in mind things could change very quickly."