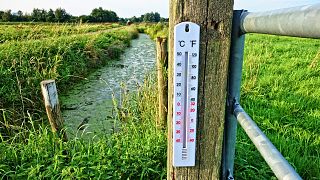 Countries across Europe have been experiencing record-breaking January temperatures, meteorologists say.
At least eight European countries have recorded their warmest January day ever.
Climatologists are calling this an "extreme event" unlike anything in European history.
Europe's hottest January on record
At least eight countries in Europe are experiencing record high January temperatures, according to meteorologists.
Climatologist Maximiliano Herrera, who studies extreme temperatures, has collated data from around Europe.
His findings show that countries including Poland, Denmark, the Netherlands, Latvia, Lithuania, Belarus and the Czech Republic are experiencing record-breaking temperatures.
In Korbielów, Poland, thermometers recorded 19 degrees Celsius, a temperature more commonly experienced in May and 18C higher than the 1C annual average for January.
Javorník in the Czech Republic is usually around 3C at this time of year, but has recorded a temperature of 19.6C.
In Germany, almost 950 local records were broken across the country at small measuring stations between December 31 and January 2.
The south of France and northern Spain sweltered with the mercury hitting almost 25C in Bilbao.
An 'extreme event' for Europe's weather
"We can regard this as the most extreme event in European history," Herrera told the Guardian.
"Take the case of July 2022 UK extreme heatwave and spread this sigma (magnitude) in a much huger area, encompassing about 15 countries."
He added that this phenomenon is the first in Europe that can be compared to the extremes experienced by North America this year.
Why is Europe experiencing such high temperatures?
Scientists are still trying to work out the reason for the unseasonal temperatures.
"It's been extreme heat across a huge area, which is almost, to be honest, unheard of," Alex Burkill, a senior meteorologist at the Met Office, told the Guardian.
He explained that a mass of warm air had been generated off the west coast of Africa and had moved across Europe.
"It has been widespread, Denmark, Czech Republic, as well as pretty much the whole of Germany have seen temperatures for January exceeding records," Burkill said.
But meteorologist Scott Duncan noted that even taking into account the unusually warm sea surface too, it doesn't seem to explain the staggering temperature rises.
What climate scientists are sure of, however, is that these anomalous heatwaves are going to continue to become more common and more extreme thanks to global warming.