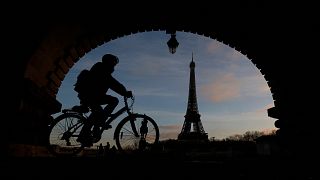 -
Copyright

REUTERS/Gonzalo Fuentes
By Euronews Green with Reuters
A nationwide strike brought France to a standstill on Thursday as workers protested pension reform plans.
Railway unions joined the public sector-heavy movement, leaving almost no local or regional trains running and wreaking havoc on bus and metro traffic in the capital.
Paris commuters took advantage of the capital's newly expanded network of bicycle lanes to bypass the public transport disruptions.
On Rue de Rivoli, the famous thoroughfare running past the Louvre Museum, throngs of cyclists teemed through Paris.
Bike lane traffic has often surged during recent strikes. The last Paris metro strike on 10 November boosted bike lane usage by 80 per cent from average daily use that month. Thursday's figures will be available later on Friday.
How and why is France investing in cycling?
In a bid to make Paris a 'cycling city' and move towards carbon neutrality, Socialist Mayor Anne Hidalgo has invested more than €150 million into new bike infrastructure in recent years.
This is part of a wider plan, announced by former Prime Minister Edouard Philippe in 2019, to boost cycling across the country.
In line with the goals of the Paris Agreement, Paris plans to reach net zero emissions by 2050. The city is also committed to reducing its carbon footprint by 80 per cent compared to 2004 levels.
Implementing and promoting clean transport is a major part of this strategy.
Paris City Hall has rolled out 80 kilometres of new cycle lanes since the pandemic. It plans to build 100 km more within the next three years.
To boost uptake of cycling, France has offered incentives of up to €4,000 for people to switch their cars for less polluting bicycles or e-bikes. It has also introduced more secure cycle parking facilities and made identification engraving mandatory on bikes to deter thieves. 
The government hopes 9 per cent of the country will cycle to work by 2024.
Even if it achieves this, it will still fall far behind the Netherlands, where an estimated 27 per cent of citizens commute to work by bike and people cycle an average of 2.6 km each per day.
A 2022 University of Southern Denmark study estimated that if this pattern was replicated worldwide, annual global carbon emissions would drop by 686 million tonnes.
What are the environmental and health benefits of cycling?
Not only has cycling helped Parisians beat the strike chaos, it also has positive implications for health and the environment.
Cycling is a great way to stay fit and healthy. People who cycle to work have a 45 per cent lower risk of developing cancer, and a 46 per cent lower risk of cardiovascular disease.
The climate stands to benefit from cycling, too. The transport sector accounts for a quarter of global fuel-related greenhouse gas emissions, with half coming from private vehicles, including passenger cars and trucks.
Cars also contribute to air pollution, clogging the air with toxic chemicals and gases.
Are strikes likely to increase cycling in Paris on non-strike days?
While some commuters begrudgingly cycled out of necessity on 19 January, others seemed to enjoy the ride.
"It's cold, but I've got my final exam at uni and that's why I'm taking my bike," Marinella Mighiglieri, a Peruvian student told Reuters on the Boulevard Sebastopol bike lane, one of the world's busiest according to the City of Paris.
Another commuter, who had to get an Uber bike at Gare du Nord station after struggling to reach the capital from the northern suburbs, had little sympathy for striking workers.
"It's horrible. They're a real pain the arse," she said, giving her name only as Lola.
Not all cyclists were cursing the strikers, however.
"It's been a real journey, but it's OK, it feels nice on the lanes," Emy Facconier, 26, said.