France braces for nationwide protests and strikes over Macron's proposed pension reforms
Comments
By Euronews with AFP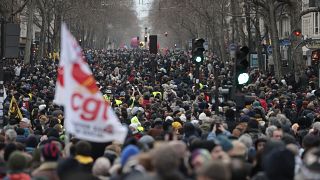 -
Copyright

Lewis Joly/AP
The French government said it will not budge on its plan to increase the age of retirement to 64 ahead of nationwide strikes and protests planned for Tuesday.
At present, workers in France can start to collect their pensions at the age of 62. But President Emmanuel Macron's administration wants to raise the retirement age to 64 by 2030.
Postponing the change "is no longer negotiable", warned Prime Minister Elizabeth Borne on Monday. 
However, there might be room for compromise in some areas as parliamentary committees began examining the draft legislation on Monday.
Macron promised he would introduce the measure before he was reelected in April 2022 but opposition to the move has grown bigger than ever after some 1.1 million people marched across French towns and cities on January 19 bringing travel to a national standstill.
Macron's left-wing opponents have also slammed the move and have submitted more than 6,000 amendments to the draft law in hope of delaying the measure.
According to the statistics, the rallies on January 19 were the largest demonstrations seen on the territory since former president Nicolas Sarkozy introduced the last round of pension reforms in 2010.
Unions said they want the legislation to be abandoned and have mobilised professionals in the education, transport and manufacturing industries among others, ahead of Tuesday's strikes. They have warned that more stoppages will come.
France has one of the lowest retirement ages in any major European economy.
Rail operator RATP said most metro and suburb rail services in Paris will be affected on Tuesday and will operate on a minimal service.
Its competitor SNCF said only one in three high-speed TGV trains will operate on Tuesday while disruptions are also expected at French airports and on transnational rail services.