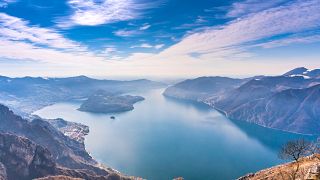 -
Copyright

Salmen Bejaoui
Northern Italy is teeming with historic, art-filled cities vying for travellers' attention.
Most visitors will head to Venice, Milan or Turin, but this year two often overlooked destinations should be on your radar.
Bergamo and Brescia, both in the region of Lombardy, are sharing the accolade of the country's Capital of Culture for 2023.
These two destinations will buzz with cultural events, festivals and exhibition openings this year.
Two new sustainable routes to travel from one city to another have also been announced.
Here's how you can take an inspiring trip to Italy's 2023 cultural hubs.
Why you should visit Brescia and Bergamo in 2023
The two northern Italian cities of Brescia and Bergamo were named Italy's Capital of Culture for 2023 in honour of their plight during the COVID-19 pandemic.
The joint nomination was intended as a symbol of brighter days to come.
As such, the two centres - which are both short train rides from Milan - are putting on a spectacular programme of cultural events this year, making it the best time to visit.
What to see and do in Bergamo in 2023
Bergamo is a city of two characters - the mediaeval labyrinth of the Città Alta and the wide boulevards of Città Bassa.
The "upper" city, as the older part is known, is a maze of cobbled streets encircled by a perfectly intact 16th century wall.
Most visitors spend their time here, exploring the ornate Gothic town hall, the opulently gilded Santa Maria Maggiore cathedral and the intricately marbled Colleoni chapel.
But the programme of openings and events this year will persuade you to explore the lesser-visited Città Bassa, too.
From the rocky outcrop of the Città Alta, you can catch a cable car down into the tree-lined piazzas and sweeping porticos of the lower city.
For art lovers, the Accademia Carrara is reopening at the end of January having just undergone a stunning makeover.
A new exhibition will celebrate some of the region's great artists, including Lotto, Ceruti, and Cecco del Caravaggio.
The grand Teatro Donizetti, also in the lower town, will stage an Opera Festival this year dedicated to the great composer Gaetano Donizetti, who was born in Bergamo.
What to see and do in Brescia in 2023
Brescia is the Lombardy region's second most populous city after Milan.
Its vibrant centre is a visual journey through Italy's most powerful epochs - elegant Roman ruins; a formidable mediaeval castle; perfectly proportioned Renaissance palaces and imposing Rationalist structures.
You can delve into the complex history of this city - and the Lombardy region more widely - at the vast Santa Giulia Museum.
Housed in a converted Benedictine monastery, the institution will be putting on some temporary art exhibitions for its Capital of Culture programme.
One already announced is the Brescian Renaissance retrospective taking place in autumn.
The lavish Teatro Grande of Brescia also joins the roster of events with an opera festival in summer.
How to get from Bergamo to Brescia
This year, travellers hoping to visit both cities can follow a special new itinerary between the two centres.
Two slow tourism routes - one for cyclists and one for walkers - have been mapped out between Bergamo and Brescia.
The Cammino is a 120 kilometre hike with recommended overnight stops for a week-long trip. Called the Via delle Sorelle, the route meanders through Lombardy's verdant hills and valleys and is punctuated by mesmerising views and cultural pit stops.
For some of the way, you will walk along the Strada del Vino, a path that passes through the storied Franciacorta wine-making region.
The roads are lined with leafy vineyards and the occasional white-washed villa where you can taste the sparkling wine they produce.
This path also heads down to the shore of Lago Iseo, an understated lake often overlooked for neighbouring Garda or Como.
The Ciclovia, a 76-kilometre route, takes cyclists through the lush nature reserve of Torbiere del Sebino.
It also winds through the vines of Franciacorta and there are plenty of stopping points in quiet stone villages or ancient castles.