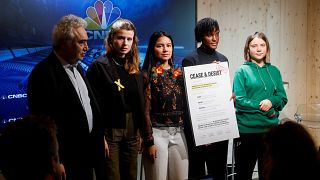 Copyright

REUTERS/Arnd Wiegmann
-
Greta Thunberg is leading some big names in youth climate action at the World Economic Forum in Davos, Switzerland.
Alongside her are Vanessa Nakate from Uganda, Helena Gualinga from Ecuador and Luisa Neubauer from Germany. Together, they are demanding a halt to new oil and gas projects.
On a panel with the International Energy Agency (IEA) chief, Greta said the global energy industry would go as far as it could without public pressure, adding that the sector would continue to invest in fossil fuels and "throw people under the bus for their gain."
Calling out the hypocrisy of oil and gas CEOs, who have long known about the disastrous impacts of fossil fuels, the activists say it's time to stop misleading the public and deceiving politicians on the climate crisis.
"It's time to put these CEOs on notice - showing them that 2023 will be a watershed moment for accountability," they urge, promoting their Cease and Desist Notice in an email campaign by non-profit Avaaz. "Enough is enough!"
Their 'cease and desist' campaign has been gaining steam via social media, garnering more than 897,000 signatures at the time of writing.
It calls for oil and gas CEOs to "immediately stop opening any new oil, gas or coal extraction sites, and stop blocking the clean energy transition we all so urgently need."
Greta Thunberg: From coal mine to Davos
Greta Thunberg's imminent appearance at the WEF comes hot off the heels of her joining demonstrators in the German village of Luetzerath protesting the expansion of a coal mine.
On Tuesday, Thunberg was carried away from the protest site, along with many other activists, as police atttempted to clear the site.
The morning after she tweeted about the detention saying, "Yesterday I was part of a group that peacefully protested the expansion of a coal mine in Germany. We were kettled by police and then detained but were let go later that evening."
Former US Vice-President Al Gore has said that he agreed with Thunberg's efforts in Germany and that the climate crisis was getting worse faster than the world was tackling it.
"We are not winning. The crisis is still getting worse faster than we are deploying these solutions," Gore told a WEF panel, highlighting a growing gap between those "old enough to be in positions in power and the young people of this world".
Why are climate activists protesting at Davos?
Environmental activists have already arrived in force in Davos to protest - among other things - the hypocrisy of the global elite travelling to the forum in emissions-spewing private jets.
In 2022, one in 10 WEF attendees arrived by private jet, with one flying just 21 km - a journey that could have easily been made in a less polluting fashion.
This week, Debt for Climate protestors are blocking jets from landing at St Gallen-Altenrhein private airport by suspending themselves from a wooden pole structure on the runway.
The protest is part of the group's Make Them Pay campaign, which calls on the rich to pay their climate debt and cancel debt for the Global South.
In previous years, Greta Thunberg has been invited to speak on panels at the World Economic Forum, when she took the opportunity to call out leaders for their inaction on climate change. This year, it seems so far that she is just heading there to protest.
She has also led previous Davos demonstrations, including the 2020 School Strike for Climate, also known as Fridays for Future.
On Sunday, hundreds of protestors from the Swiss Socialist Youth, Strike WEF and Greenpeace gathered in snowy Davos to demand a climate tax on the super-rich attending the World Economic Forum annual meeting.
Protestors also accused Big Oil firms of hijacking the climate debate. Major energy firms including BP, Chevron and Saudi Aramco are among the 1,500 business leaders gathering in Davos alongside state leaders. Protestors fear fossil fuel CEOs will use the event to push their agenda.
Activists had completed a two-day hike from Küblis to Davos, where they held an authorised protest.
How is the Davos forum addressing the climate crisis?
Among other topics including the war in Ukraine and the cost of living crisis, the climate is high on the agenda in Davos this January - but some feel it has been pushed down the list of priorities over the years.
"A failure to mitigate climate change is ranked as one of the most severe threats in the short term but is the global risk we are seen to be the least prepared for," WEF experts wrote in its Global Risks Report published last week.
The decarbonisation of industries and the energy transition top the agenda for 2023, with a focus on new technologies, including more sustainable fuel sources and green hydrogen.
Food insecurity is also a hot topic as biodiversity loss, extreme weather, and an increasing number of natural disasters take their toll, while energy and fertiliser shortages rage on.
What is the World Economic Forum in Davos?
The World Economic Forum (WEF), often referred to by its location in the Swiss ski resort of Davos, is an annual meeting of global enterprises, world leaders and decision makers to discuss and tackle global political, social and economic issues.
This year, the forum resumed after a COVID-induced three-year hiatus. A slimmed down version of WEF was held in May 2022.