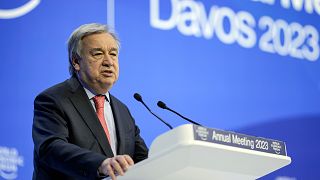 Copyright

AP Photo/Markus Schreiber
-
UN Secretary-General Antonio Guterres condemned Big Oil for ignoring its own climate science at the World Economic Forum in Davos on Wednesday. 
He said that the science on climate change has been clear for decades but accused the oil and gas industry of seeking to expand production knowing "full well" that their business model is incompatible with human survival. 
"I'm not only talking about UN scientists," Guterres said, "I'm talking about fossil fuel scientists."
"We learned last week that certain fossil fuel producers were fully aware in the 1970s that their core product was baking our planet."
The UN Secretary-General's comments come shortly after a study was released last week revealing that Exxon scientists had predicted climate change with "shocking skill and accuracy" in the 70s.
The debate on what they knew began in 2015 when leaked internal documents revealed the company's early knowledge of climate change.
Exxon disagreed with the reports, giving links to internal memos and documents and then asking interested parties to make up their own minds. That's just what the authors of the study did.
"What they understood about climate models thus contradicted what they led the public to believe," they write.
Guterres added at Davos that "just like the tobacco industry", they had "rough-shod over their own science". He said that those responsible needed to be held to account.
"Some in Big Oil peddled the big lie."
Businesses need to commit to credible net zero pledges
Guterres also told business and political leaders in Davos that more and more businesses were making net zero commitments.
"But benchmarks and criteria are often dubious or murky."
He warned that this can mislead consumers, investors and regulators using false narratives, feeding a culture of climate misinformation. It also opens the door to greenwashing.
During COP27 in November, a group of UN experts released a "how-to guide" for companies to create net zero pledges.
The High Level group, made up of 17 international experts, criticised current rules for not counting all the carbon emissions a company is linked to, a lack of transparency and a 'burn now, pay later' approach.
Guterres said that business bosses needed to put forward credible and transparent transition plans on how to achieve net zero - "and submit those plans before the end of this year."
"Here at Davos, I call on all corporate leaders to act on it," he added.