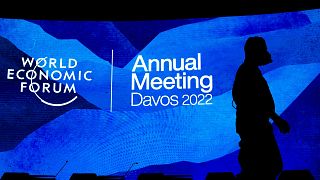 -
Copyright

Gian Ehrenzeller/Keystone via AP, File
Private jet emissions quadrupled during the World Economic Forum in Davos, Switzerland, last year, new research from Greenpeace reveals.
With 2023's forum happening next week, campaigners are drawing attention to the glaring contradictions of attendees' private jet use.
During the annual meeting in May last year, 1,040 private jets flew in and out of airports serving the Swiss mountain resort, releasing four times the average weekly CO2 emissions from this highly polluting mode of travel.
At the 52nd World Economic Forum businesses and governments discussed global issues including the "ongoing COVID-19 pandemic, the war in Ukraine, geo-economic shocks and climate change".
This year, the forum calls for "bold collection action" on "ongoing crises" including climate change.
"The rich and powerful flock to Davos in private jets to discuss global economics and the climate behind closed doors, while winter temperature records are broken all over Europe," says Greenpeace EU transport campaigner Lorelei Limousin.
"Private jets are the most polluting way to travel, and it's deeply unfair that a select few can emit huge amounts of carbon while the most vulnerable face the brunt of the damage from climate breakdown."
How much did private jet emissions increase during the 2022 WEF?
The research, commissioned by Greenpeace and conducted by Dutch environmental consultancy CE Delft, found that the number of private jet flights to and from airports serving Davos doubled during the 2022 World Economic Forum meeting compared to average weeks.
This caused CO2 emissions equivalent to 350,000 average cars in the same time period. The researchers attribute about every second flight to the meeting itself, and at least every tenth participant at the meeting travelled by private jet.
Of all these flights, 53 per cent were short-haul trips below 750 km that could have easily been made by train or car. Of these, 38 per cent were ultra-short distances of under 500 km. The shortest flight recorded was only 21 km.
According to the analysis, countries with the highest number of arrivals and departures out of Davos airports included Germany, France and Italy.
A one hour flight on the most popular type of private jet releases an average of three metric tonnes of CO2. This is the equivalent of 364,928 smartphones being charged at one time, based on calculations from the US Environmental Protection Agency's Greenhouse Gas Equivalencies Calculator.
Is travelling to the WEF by private jet hypocritical?
The World Economic Forum states on its website that "environmental threats" continue to rank at the top of its Global Risks Report. It adds that to achieve the goals of the Paris Agreement, "businesses, policy-makers and civil society must advance comprehensive near- and long-term climate actions".
Considering the polluting and climate heating effects of private jet emissions, it certainly seems counterproductive for attendees to choose this mode of transport.
There is an argument to be made that the solutions and press coverage generated by the event makes it worth it. But with so many more environmental ways to travel, flying privately still seems unnecessary.
In 2022, environmental activistscamped out at the Davos forum to draw attention to other issues, including the lack of focus on 'loss and damage' for developing countries facing the worst effects of climate change and the lack of ambition to phase out fossil fuels.
Should private jets be banned?
The issue of private jets drew global attention last year after several public figures faced criticism for taking ultra-short trips by private jet.
Private jets are not regulated in the EU, despite being the most polluting mode of transportation on the planet per passenger kilometre.
For the first time, in 2022, several EU countries, spearheaded by France, have started to push for EU-wide regulation of private jet emissions.
Limousin calls for concrete collective action against the use of private jets. "The EU must ban private jets and needless short flights to start tackling the climate crisis in an equitable way."