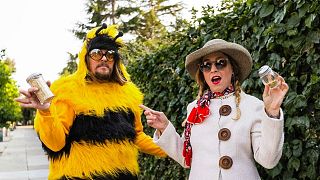 Copyright

Shalaco Studios
-
For the fourth episode of Euronews Green's new video series Low Impact Living, we spoke with San Francisco-based gardeners Shalaco and Phoenix of SF in Bloom about democratising nature and the pair's lifelong love of nature.
"You put the seeds in your hand and you toss them. It's that simple. It's just a beautiful accessible thing for almost anyone."
The first time I came across Shalaco and Phoenix was on TikTok. I couldn't sleep and was mindlessly scrolling endless videos of people cooking or dancing - or sometimes both - when suddenly I was watching a man on a hoverboard chucking seeds along the pavement.
I couldn't stop watching.
I spent the next hour catching up with their before-and-after videos, beaming with delight every time a patch of disused turf was suddenly ablaze with wildflowers.
The next day I bought wildflower seeds - native and non-invasive to my area of course - and made a plan to make my own garden more pollinator-friendly.
And that's how infectious Shalaco and Phoenix's enthusiasm and passion for nature is.
For the latest episode of Low Impact Living, I sat down with the pair to find out more about how they found themselves dressed as bees, riding OneBoards through San Francisco, inspiring people all over the world.
Finding a community online
"This all escalated very quickly," explains Shalaco, "we started scattering native wildflower seeds and people went crazy."
In the videos, Shalaco and Phoenix are often using parmesan shakers to distribute the seeds - something which has become a recognisable symbol of the simplicity and accessibility of their work.
Shalaco found a large parmesan shaker in a charity shop a few years ago, which he then gifted to Phoenix - labelling it "the mega-epic seed shaker."
Now, people all over the world have started to make their own versions.
"We see videos that people send us where they're shaking with the shaker and then they give it to their little kid," says Phoenix, "it just makes me want to tear up! It's such a beautiful, simple thing with such a powerful effect."
While the seed shaker approach is an accessible, fun way to help benefit your local ecosystem - there's also an important level of responsibility too.
The pair are therefore always careful to point out the importance of finding native, non-invasive seeds for your own area. They sell special mixes for regions around San Francisco, but they regularly emphasise the importance of researching what plants are safe to spread near you.
"Native can mean that it's either endemic or indigenous," Shalaco explains. "Indigenous is where it's from the region, while endemic is where it naturally came to the region without human intervention and it benefits the ecosystem.
"Invasive plants are ones that kind of do too well - they just take over! Like Pampas grass or bamboo."
Phoenix also clarifies that what is invasive in their region, however, will be native somewhere else - which is why research is so important.
Country kids in a very big city
The couple's overwhelming love of nature is at the heart of why their content performs so well on social media. It's always a delight to watch people talk about something they are truly passionate about - and I challenge you to find two people more passionate about plants than these two.
Both grew up surrounded by nature. Shalaco describes himself as "a child of the National Parks", growing up spending time in the beautiful Yosemite National Park in east-central California. Phoenix too "grew up in the middle of nowhere" in Wisconsin - and both credit their rural upbringing with fostering their love of the great outdoors.
This has stayed with them, even as they moved to San Francisco. Their first date, in fact, centred around replacing a tree that had been stolen from Shalaco's neighbour's garden.
"Someone stole our neighbour's citrus tree in a rainstorm. Who does that?!" cries Shalaco.
In the decade since that first date, the pair have continued to bring nature to countless more people. Sometimes the recipients are clients of Phoenix, who runs a sustainable landscape gardening business.
But often they are bringing the joy of plants to people who likely don't even realise the flowers they walk past have been consciously planted.
This subtle, gentle way of democratising nature is at the heart of SF in Bloom - and ultimately why they've built such a loyal fanbase, all over the world.
Click on the video above to see Shalaco and Phoenix in action.