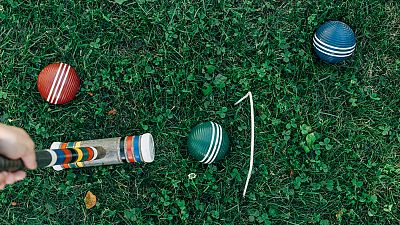 Making croquet balls is a tedious, demanding profession. Only three people in the world are qualified croquet-ball makers.
Paul Manwaring is one of them.
Manwaring has been making balls for two years at his Australian Croquet Company in a tin shed in Darwin, south Australia, which he bought from croquet legend Bryan Dawson.
Dawson had created a special concoction of melted plastic that makes the perfect ball. It is then molded and pressed.
Manwaring sells balls to croquet clubs around the world.
"I've played with about five different sorts of balls in the years that I've been playing, and they are absolutely the best," Eileen Ferguson from the South Australia Croquet Association told Associated Press.