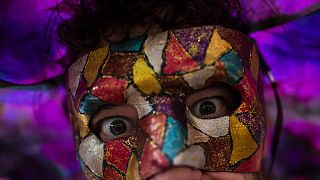 -
Copyright

AP Photo/Bruna Prado)
Rio de Janeiro's iconic carnival returned on Friday with outrageous costumes, head-spinning samba dancers, and enormous floats parading down the streets to the sounds of live music until dawn. 
This year marks the first time the celebration has returned to normal since the Covid-19 pandemic began three years ago. Last year, Rio was forced to delay the event by two months and imposed some restrictions on the fun, which was mainly attended by locals.
The Brazilian government expects around 46 million people to attend the week-long festival across the country in cities such as Salvador, Recife and Sao Paulo.
Many Brazilian mayors marked the start of the celebrations on Friday by symbolically handing the keys of the citiy to their Carnival Kings. And the first street parties of the carnival weekend kicked off, with costumes ranging from Pope Francis to the devil himself.
"We've waited for so long, we deserve this catharsis," Thiago Varella, a 38-year-old engineer wearing a Hawaiian shirt drenched by the rain, said at a party in Sao Paulo.
The Rio authorities issued permits for over 600 street parties, known as 'blocos', much to the joy of locals and tourists alike. The most popular 'blocos' can draw millions to the streets.
Adding to the festivities are the samba parades at the Sambadrome.  Throughout the week, top samba schools will showcase their talents in hour-long parades with elaborate floats and costumes.
Speaking to the media, Jorge Perlingeiro, president of Rio's league of samba schools welcomed the return of full-scale celebrations.
"It's such an important party. It's a party of culture, happiness, entertainment and leisure," he said.
He added that this year's Carnival will smash records at the Sambadrome, where some 100,000 staff and spectators are expected each day in the sold-out venue, plus 18,000 parades.