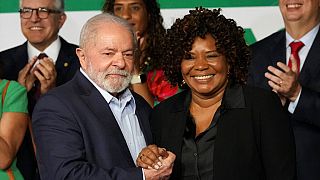 -
Copyright

Eraldo Peres/Copyright 2022 The AP.
It's been barely a week since Luiz Inacio da Silva took office as Brazil's president for the third time and he's already facing a crisis that threatens the constitution and his own position. 
In the run-up to the election I explored the culture clash over ownership of Brazil's famous yellow football jersey and its sometimes deadly consequences during the political campaign.
Now battle lines are literally being drawn over Congress, where as I write, thousands of people who back the defeated candidate Jair Bolsonaro have stormed the building and the supreme court and presidential palace.   
This article, however, is intended to be a celebration of culture and more specifically, Brazil's new Culture Minister Margareth Menezes.
Queen of the Afropop movement, the samba-reggae and the Axé music, Menezes could not be further from the many white old men, often from military circles, that Bolsonaro named in his now defunct cabinet.
Menezes has the charisma and the credentials needed to head one of the most important ministries in the newly-elected government. And the symbolism of Lula's choice for the role could not be more evident.
Best known for her infectious music, her carnival performances and raw talent as an accomplished actress on TV and on the big screen, she hails from a black family on the outskirts of Salvador.
From humble beginnings, Menezes rose to fame in the vibrant capital of Bahia state, the land of carnival on the north-east coast.
But before becoming a world-famous artist, with thousands of albums sold in Brazil as well as Europe, the United States and Latin America, Menezes was already a highly regarded actress in theatre and on TV, both as a performer and also as a producer. A face and a voice which has marked the country's recent history.
Her new boss Lula, in his opening speech to parliament in Brasilia, spoke of the huge 'dismantling' of the education, culture and environment protection bodies under the previous administration. 
At Menezes' nomination ceremony the very next day, instead of naming her trophies and accolades in the arts' world as credentials, Menezes' own introduction reminded all watching of her roots, a Brazilian from African and native peoples' heritage, "a child who grew up in the periphery of Salvador in the north-eastern state of Bahia."
She went on to say that "culture bothers because it is the expression of democracy and its rights, tools for constant transformation."
Menezes was referring, without a direct mention, to the previous government of Jair Bolsonaro, who, in his first day in office four years ago decided to fold Brazil's Ministry of Culture, instead integrating it into the Tourism Ministry under the title of 'Culture's Special Secretariat'. In that moment, critics of the former far-right leader argued that culture in Brazil was taking a back seat for good.
Soon after, grants offered to artists to create and distribute their craft, from cinema to music to theatre, began to be cut back or extinguished, to the dismay of artists from many different industries.
After some in Brazil called 'a nightmare' period, Margareth Menezes appointment is in many people's eyes a breath of fresh air into an industry so vital to the melting pot of cultures that is Brazil, visibly neglected in the last four years.
When Lulu met Janja
And despite the huge challenges to re-establish an entire ministry, Menezes was all smiles during her nomination ceremony. As a guest of honour representing the office of the president, was Rosangela Lula da Silva, Brazil's newly-installed first lady. Lula married Janja, as she is affectionally known, in May last year, and the couple met while he was in prison for charges later annulled.
The new first lady is said to have been an influential voice in the choice of Menezes to head the culture brief in Lula's new cabinet. Lula himself is used to having world-famous artists sitting alongside him as ministers in Brasilia.
Back in 2003 during his first term, he named Gilberto Gil, another icon of Brazilian music, also from Bahia, as his Culture minister. The singer left the post after 5 years during Lula's second mandate.
Gil and Menezes have been partners on stages in Brazil and beyond many times over - and together with Caetano Veloso, another one of Menezes' collaborators - probably the three make out the best-known artists to hail from Bahia to global fame. Legends in a country with such rich musical history.
With 21 international tours under her belt, as well as multiple awards and nominations, Menezes was once called the 'Aretha Franklin of Brazil.'
In one of her European tours, in the autumn of 1989, Menezes and David Byrne, of the band Talking Heads, the Scottish-American musician and composer, performed together for an entire season. Afterwards the Oscar-winning artist said Menezes "stole the scene," and that the beautiful Brazilian "emanates power."
But instead of sell-out world tours or the extra-long days of singing and dancing in the electrifying carnival of Salvador, where Menezes leads her own traditional 'trio elétrico' group, her new job is to circulate in the corridors of power in the capital Brasilia. And to share the limelight with president Lula da Silva.
Brazil is born again
Menezes' wide-ranging talents have put her in a position of wealth and power in Brazil, which she has been using to help disadvantaged communities in her hometown for decades.
Since 2004, Menezes has been part of social projects in the periphery of Salvador, in the same neighbourhood where she grew up. The project is responsible for training thousands of poor, disadvantaged students in music production, communication, printing, sewing and graphic design. The initiative is credited with raising thousands of children out of extreme poverty, giving them practical skills and a profession which they can carry for life.
Despite those heroic efforts, Menezes has many more challenges ahead in her new role as a top-tier minister in a complex country such as Brazil.
But her relaxed attitude was again on show at the end of her speech in the same naming ceremony. Margareth Menezes sang to the cameras, and the words she picked went like this:
"Go and call the natives, go and call the blacks, go and call the whites, go and get my people, as the king of Brazil is born again, again reborn."
Lula made history 20 years ago when he became the first president from a working-class background elected to lead South-America's biggest nation, home to 215 million people.
And Margareth Menezes is also making history in 2023, this time as a true representative of the people, a person who has experienced poverty and hardship first hand and who has found a way to get out of it. 
Her energy and her rare talent have helped bring her worldwide fame. 
The hope for millions of Brazilians is that she can use all her experiences before taking office and repeat her success as part of the new government machine.