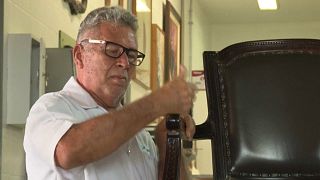 A fortnight after right-wing radicals ransacked government buildings in Brazil's capital city, artisans and experts are trying to repair dozens of antiques and works of art.
Senate museum master craftsman Randall Felix, 63, was working on restoring an early 19th Century chair, its armrest torn off by Bolsonaristas, when he spoke to AFP.
"The shock is great. This is part of our life, so when you see that a piece has been treated like this it is very difficult," he said.
The chair on Felix's workbench, which belonged to the former Senate headquarters in Rio de Janeiro, is just one of dozens of pieces damaged in the invasion of the Congress in Brasilia by thousands of supporters of the far-right former president Jair Bolsonaro.
Bolsonaristas
After breaking into the building on 8 January, they entered and vandalised the presidential headquarters and the Supreme Court, also decorated with priceless works of art, seeking the downfall of the new government of leftist Luiz Inácio Lula da Silva.
Since that day, employees normally occupied with preservation tasks have been trying to rescue the works from the collection, some of which have been reduced to parts to be put together like jigsaw puzzles.
In the laboratory of the Chamber of Deputies museum, there are several containers with fragments of vessels and other objects only identifiable by old photos.
Most of them were found in the emblematic Green Room, where legislators usually talk to the press, and some 46 gifts from different countries were on display. Some pieces of these were scattered among glass and under water that flooded the room after a fire broke out.
Brazilian heritage
Staff grabbed torches and did their best to salvage treasures from the rubble.
The head of the Chamber of Deputies Museum is Gilcy Rodrigues. He's 58 and has worked there for 30 years.
He said: "This is not our job. This is our home. This is what we do, looking after the heritage of the institution, so we feel a sense of loss, of anguish."
But the painful work is already showing results.
In the lower chamber, 60% of the damaged objects have already been restored.