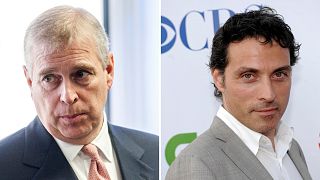 -
Copyright

AP Photo/Canva
A year ago today, Britain's Prince Andrew reached an out of court settlement with Virginia Giuffre, the women who accused him of sexual assault.
But that is by no means the end of the affair because Netflix are planning to dig deep and dramatize one of the most spellbinding moments around the affair. 
We all saw that infamous broadcast. The day that the relatively obscure royal Prince Andrew cemented his name in the public's mind for his avowed denial of an association with convicted sex offender Jeffrey Epstein, associations with convicted sex offender Ghislaine Maxwell, and accusations of sexually assaulting the then-minor Giuffre.
Andrew supposedly believed that the interview went quite well. If you haven't seen the programme, the BBC's Emily Maitlis lays into the royal with precision questions that had him retreating into absurd defences, claiming claims couldn't possibly be accurate because… he couldn't sweat at the time. Yeah, that was his actual excuse.
The interview, naturally didn't go as well as the poor Prince presumed, and precipitated the public disintegration of his reputation. The Queen stripped him of all royal duties and Andrew has been fighting legal investigations into his actions ever since.
Now, the interview that led to Maitlis destroying a prince's public persona will soon be given the 'Crown' treatment.  'Scoop', produced for Netflix by 'The Crown' director Philip Martin and written by 'Doctor Who' and 'Sherlock' writer Steven Moffat, also has an all-star cast.
Before the actual show drops and we get to watch the interview in which a member of the British royal family claims he neither remembered crucial events of a party at a Pizza Express and that he spent many years without the ability to sweat, we thought we'd give a ranking and our own suggestions for the upcoming cast.
Gillian Anderson as Emily Maitlis
Not a royal, but a true queen. Gillian Anderson made her name as FBI Special Agent Dana Scully in 'The X-Files' but has recently brought her chiselled cheekbones and penetrating glare to UK Prime Minister Margaret Thatcher and warm severity to sex therapist Jean Milburn in Netflix series 'The Crown' and 'Sex Education' respectively.
Playing to form, she's going to easily embody the stern interviewer approach of an Emily Maitlis performance. This is a 10/10 casting choice for Maitlis as who wouldn't want Anderson portraying you in a hard-hitting drama? If in doubt, go Anderson. No notes.
Rufus Sewell as Prince Andrew
Now we're onto the controversial choices. Let's be honest with ourselves, Andrew has lucked out with the casting of Rufus Sewell. He's no stranger to a royal performance, having played Crown Prince Leopold in 'The Illusionist', Agamemnon in 'Helen of Troy', and King Charles II in 'Charles II: The Power and the Passion'.
Frankly, Sewell is too much of a hunk to play the alleged paedophile prince. Andrew has far more in common with a gangrenous thumb than an actor with the sort of smoulder that got Sewell roles in multiple Tom Stoppard plays, 'A Knight's Tale', and 'Old'.
It's not fair for us to actually nominate a replacement actor in Sewell's place so I'm returning back to my original suggestion of a gangrenous thumb. I was going to suggest a toe, but some people are into feet and he doesn't deserve such grace. (We scoured casting agencies across Europe but to date, no thumb or toe is yet ready to be attached to the project, hence the lack of a picture. Ed.)
Keeley Hawes as Amanda Thirsk
For our European readers who are unaware, Keeley Hawes is a British television institution. Put her in any police/crime drama and her knack for creating complex characters is hard to outshine. She led the shows 'Spooks', 'Ashes to Ashes', 'Line of Duty' and 'Bodyguard' with gusto, as well as putting in a harrowingly tragic turn as a mother in denial in the recent 'It's a Sin'.
There's no doubt that Hawes will imbue the role of Amanda Thirsk, the private secretary to Prince Andrew with her characteristic ruthless humanity. Yet, once again it feels like Netflix has batted too hard. Although for the look of dawning horror as her boss messes up the notorious interview, Hawes will likely come up trumps.
Still, I have to recommend my own actor for the role, so I'm suggesting the wonderful Sally Hawkins. For one, they have similar vulpine facial features. Hawkins has typically been given quiet, reclusive characters like her roles in 'The Shape of Water' and 'Paddington', so I'd love to see what she'd do with the eminently stressed out private secretary of the alleged "Sweaty Nonce".
Billie Piper as Sam McAlister
Sam McAlister is the TV producer who organised the interview and then wrote the book 'Scoops: Behind The Scenes of the BBC's Most Shocking Interviews' that the show is based on. It's a heft part and Billie Piper who's on a career resurgence with recent incredible performances in shows like 'I Hate Suzie' which she co-created and the play 'Yerma' will no doubt be up to the part.
Piper has shone in these recent roles where she can lean into her natural glamour and instinct for tensions bubbling under the surface. As a straight talking TV exec and author, she'll no doubt also be fantastic, but I can't help feeling this is the role that Keeley Hawes should be in instead.
Not content to have a serious British drama without her in, Hawes finds a new home playing the sharp-shooting producer and author, and our dream cast of 'Scoop' is complete. Shame they won't be taking our advice any time soon.