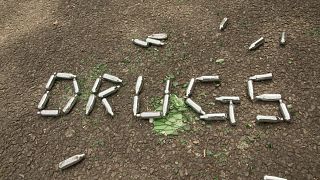 The sale and possession of laughing gas could soon be illegal in the UK. Terrible news for people who love littering the little metal gas canisters on every street corner in London.
Nitrous oxide, otherwise known as laughing gas, has multiple normal uses beyond 17-year-olds huffing it in Vauxhall Corsas. The revision to the law will not affect medical uses or restaurants that use the pressurised gas to create foams or rapidly chill foods.
Instead, the government wants to allow those who use laughing gas in public to be prosecuted. The gas is already illegal to sell for the intention to inhale by the Psychoactive Substances Act, but the current laws make it relatively easy to purchase.
Downing Street wants to clamp down on antisocial acts as part of a new behaviour strategy. Laughing gas is the second most commonly used drug by 16-to-24-year-olds in the UK after cannabis. Use of the drug isn't without danger though as inhalation can cause paralysis and death in extreme cases.
Despite the danger, laughing gas was not included on a list of controlled drugs in the UK after a 2015 review of the Misuse of Drugs Act. Since then, more than half a million people claimed to have used laughing gas between 2019 and 2020. Between 2001 and 2016 there have been 36 deaths associated with laughing gas.
Much of the motivation to ban laughing gas comes from the antisocial way users partake. Anyone who's spent enough time walking around a UK city at night, or many others across Europe, will have come across huddles of people inflating small balloons sitting on benches and in cars.
For the most part, people on laughing gas sit pretty still. It's more often the trail of gas canisters and discarded balloons that leave neighbours frustrated with the drug.
Britain's Home Secretary Suella Braverman has also backed the move as part of her general attacks on users of low-level drugs like cannabis.
"Yes, what an excellent use of our time. The British state has de-facto decriminalised whole areas of serious crime by not having the resources to pursue it, but let's send police officers to track down kids using laughing gas," columnist Ian Dunt wrote on Twitter.
Appealing to middle class voters who's most pressing public issue is neighbourhood littering seems to be the way Prime Minister Rishi Sunak believes he will wrestle public opinion back in his favour as the country faces a cost-of-living crisis, strikes due to underfunded public services, and tax-dodging politicians.
Instead of dealing with those issues, Sunak is likely to push for possession of laughing gas to be punishable by  up to two years in prison, an unlimited fine or a maximum 14-year sentence for supplying or producing the substances.