Barcelona residents protest against anti-social behaviour
Comments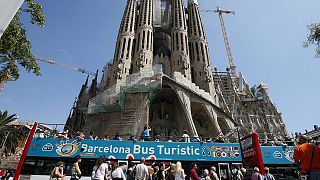 Barcelona residents took to the streets this week in an impromptu protest against drunken and rowdy tourists who cause a disturbance at all hours of the day.
Rude, crude and lewd alcoholic-fuelled behaviour have pushed locals to the limit, with the final straw being the decision of three Italians to wander around the town naked.
Vincenç Forner, who photographed the trio in nearby La Barceloneta, told Spanish national daily El País: "It wasn't a one-off. Tourists do whatever they want here."
Oriol Casabella, who leads the La Barceloneta neighbourhood association, said: "It's killing our neighbourhood and dissuading other types of tourists. It's Magaluf all over again."
And Magaluf may well be the Catalans' worst nightmare, after a video was posted recently of a drunken girl giving oral sex to 23 men in the street at the Majorcan party resort in return for a cocktail drink.
Residents lay the blame squarely on unregistered accommodation that is being let out in residential areas. They marched on privately-let apartments and sought out owners, urging them to close their businesses to tourists.
Resident Andrés Antebi said: "Imagine that you're in a tiny house, with three children, unemployed with no money for vacations and you have to put up with the screams and fiesta of tourists next door. It's unbearable."
Mercè Homs, the city councillor for La Barceloneta, sought to calm the situation by promising a policy of "zero tolerance" on antisocial behaviour and said residents would have support from city officials to deal with the situation.
"We're working to ensure that tourist rentals don't generate noise problems or bother neighbours," she said.
Travel writer Peter Ridding, who lives in Barcelona, told euronews: "For years weekenders arriving in Barcelona have had it in spades: a plethora of shops, bars, clubs, musical venues, film and art events.
"However, for those living there it's a different story. They only see (and hear) what accompanies this idyll: 24-hour noise, petty crime on the metro, crowds invading their living space, and the mounting in-your-face prostitution.
"Naturally the town hall would prefer high-spending, responsible tourists, but it's has to find better ways to control the offending downmarket majority – those who vomit and urinate where and
when they feel like it.
"This month demonstrations on the Ramblas have registered large protests from long-term residents who've had enough of successive governments' empty promises. Many people – especially young professionals – are moving out from the area between Placa Catalunya and Barceloneta , the weekend 'rape-and pillage'epi-centre.
"To date there seems no way either to stop the tidal wave or to ride it."