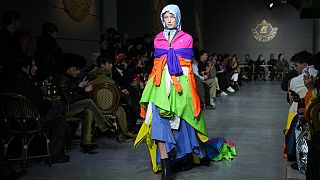 Copyright

Antonio Calanni/Copyright 2023 The AP.
-
There's been an undeniably strong start for men's fashion at Milan this weekend, the first major show of the year.
Judging by what's been on offer so far next spring and winter will be delightful for night-time dandies.
Think sparkles and glitter, fun silhouettes that invite shadow dancing, and sexy peeks at skin with tailoring tricks once reserved for the female wardrobe.
Back to Black
When the lights go out, go back to black could be the leitmotif for Dolce & Gabbana. 
Its entire collection for next winter was in mostly black monochromes, all the better for naughty play perhaps. Gray and white monochromes played a supporting role.
While light on bling, the looks were anything but basic. Designers Domenico Dolce and Stefano Gabbana created a collection built around tailoring, with the late-night synchronic club beats in mind.
Long overcoats or dramatic capes will get you to the club door. Inside, men's corsetry, obi belts and cummerbunds cinch the waist, a silhouette that is mimicked in the dramatic hourglass tailoring of coats and jackets with curved waistlines and broad shoulders. A strobe light picks up the sparkles and glitter on garments, and sheer tops and muscle knitwear show off physiques.
Machine Gun Kelly and Italian singer Blanco were among the designing duo's front-row guests.
Armani pays tribute to Milan
Giorgio Armani has been on the global fashion map for more than four decades. His latest collection for Emporio Armani traced a literal map of his adopted Milan, with models walking the perimeter of a circular runway giving a bird's-eye view of a map of the fashion capital's historic center.
The collection was inspired by aviation, and there were tailoring traces from the golden era of flight when dandies like Charles Lindbergh made history with solo crossings of the Atlantic.
A belted gray jumpsuit with a furry collar, aviator's cap and thick boots set the tone. Once he lands, there are muted plaid suits with trousers cropped just above the boot - the invention of the season. Gear is stowed in satchels and nautical bags.
Cosy knitwear paired with leather trousers and jacket, some with antique finishes, cut an adventurous silhouette. But the real dandy comes out in colourful daywear, including a beautiful wrap coat in elegant camel, velvet jackets in deep hues and silken shirts worn with foulards in bright accent colours like magenta, purple and mauve.
Leather harnesses and utility belts added an edge. Pouches are belted on top of boots. Mirrored aviator glasses complete the look.
Flashy Fendi
The Fendi collection for next winter flashes skin in ways once reserved for women.
One shoulder tops — both knit and button down – bare skin to give sexy drama to the looks. Knitwear was super sheer, barely there. A little layering restored some modesty, for the office, but could easily be undone for an evening transition.
Long coats incorporated a wrap-around asymmetrical cape, a tailoring trick mimicked in trousers with a wraparound one-sided skirt. The effect was cosy and enveloping, offering a cocoon as we venture back out into the world.
Fendi whimsy was on full display in the knit caps: one shaped like a cartoon-cool wig featuring a perky flip, or another beanie with fringe on the back. Capes and sweeping coats and scarves likewise finished with fringe. Bombers had an antique, worn feel. The colour palate was mostly low-key tones of gray, oatmeal and burnt umber set off mauve and lavender. 
K-Way celebrates Parisian heritage
The Franco-Italian active wear brand K-Way imported a bit of its Parisian birthplace as the backdrop to showcase a new collection as it charts a transition to a lifestyle brand.
K-Way's trademark packable raincoats were inspired when brand founder Leon-Claude Duhamel spied two children wearing red Nylon raincoats while sitting at the Cafe de la Paix on a rainy day in 1965. 
To honour that heritage, the Italian owners borrowed original cafe tables and wicker seating from the Parisian landmark. Duhamel himself, now in his 80s, joined the fashion crowd sipping champagne and nibbling cream pastries in the recreated cafe. 
Sales vice president Lorenzo Boglione, whose family controls the BasicNet parent company, is helping the company navigate the brand's transition, with plans to produce technical gear for sailing and skiing.
That means not just focusing on outwear. The new collection included cropped puffer jackets in tight accordion pleats, Yeti-style short coats with matching boots that layer over slim body suits or quilted short-shorts and tops. 
Long puffer coats, including as enveloping as a sleeping bag, paired with detachable hoods or furry collars. The brand's distinctive zipper acts as a logo, providing accents along with function. The colour palate hewed toward K-Way's traditional orange and blue, with some white and green.