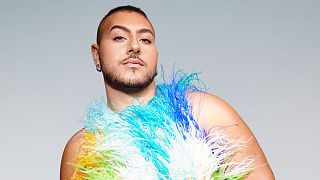 -
Body positivity has been in vogue for a while, with more and more images of different body types advertising the clothes we buy. But whether you are shopping on the high street or scrolling online, when was the last time you saw menswear advertised on anyone who doesn't have a gym-honed physique?
On TikTok, a small group of plus-size influencers are trying to make menswear more inclusive. They are using the platforms to call for different size options and even breaking down the idea of what menswear even is.
"There has been such an eye opening moment to the world of fashion for plus-size womenswear ... that we should be more open, we should be more creative with the clothing no matter what your body is," said Nikhil Kapoor, a plus-size influencer.
"But it hasn't changed to the point that menswear is also included."
Kapoor is a graduate student in Law and Science at Northwestern Law School in the United States. And between classes, he is also the creator of a clothing line called 'Posh Heat,' and an accompanying TikTok account with over 226 thousand followers.
The purpose of both is to "represent plus-size menswear and plus-size clothing in general" and show examples of how people can be creative with fashion and work around limited options.
Many of Kapoor's videos focus on recreating looks he saw advertised on people with thinner bodies.
In one of their TikToks entitled, 'When plus-size mens fashion Pinterest **inspo doesn't exit', Kapoor first shows the audience an image of a model on Pinterest and then recreates it in his apartment.
In some, he films himself while shopping, taking the audience to the store. And in others, he creates outfits for specific events, whether it is his school's orientation, going out at night or a fancy dinner.
But in almost all of his videos, there is a general idea that he and the audience can wear cute clothes that bring them joy, regardless of what they can easily find in stores.
"[Menswear in stores usually go] up to an extra, extra-large. And if you are looking for anything past that, three X or four X or five X, you are kind of screwed at that point because you don't really have many options," Kapoor told Euronews Culture.
He added that there are also limited "cute" options in menswear plus-size sections.
Instead, when shopping in person, he usually goes straight to the womenswear plus-size section and "sales section especially".
"It's practically impossible to buy your clothes, and you're at that point where you are kind of forced to go to the plus-size womenswear section if you want the regular necessities of clothing."
He claims that he bought around 90% of the clothes in his closet from the womenswear section.
The market for plus-size fashion is growing, and experts predict it will jump from being valued at around €461 billion in 2019 to €669 billion in 2027, according to a report by Allied Market research.
However, according to Jacqueline Windsor, who specialises in the retail fashion industry for PwC, the womenswear market for plus-size fashion is larger than the menswear market.
That is because the womenswear market is larger than the menswear market in general, and it's not just "a plus-size phenomenon."
"In the overall clothing market, the womenswear portion is bigger than menswear," she said.
"I would argue the same thing is true for plus-size, but there are several reasons for that. For example, women tend to have a higher frequency of purchases per year than men.
"So, it will never be equal representation on the high street. But having said that, I think the male market is underserved."
The consequences of that imbalance are that for people like Kapoor, there aren't many options in the menswear section.
And he is not the only person using TikTok to try to talk about this or try to make menswear more inclusive.
Like Kapoor, Mina Gerges is a Canadian influencer who has focused a large portion of his content on plus-size activism and fashion.
"Shopping as a plus-size guy is always such a difficult task because you step into a mall and there are such few sizes available for bigger guys, and then the available sizes are usually uglier clothes, like plain T-shirts. Everything is plain," Gerges told Euronews Culture.
"And if you're like me, and you want to try new things, and you like dressing a little spicy, you are kind of left in the dark."
Gerges has talked about plus-size fashion for almost a decade. In 2015, while a student, he posted a series of photos on Instagram replicating the looks of pop divas.
He has since become the first plus-size pit crew member of RuPaul's Drag Race, a widely successful show where drag queens compete for a cash prize.
In the show, the pit crew help with skits and are models on set who are usually topless. The show was on TV for eleven years before Mina joined it as its first plus-size pit crew member.
"I think one of the most meaningful moments of my career was being on [Canada's Drag Race]," he said.
"I'll always remember stepping into the audition room and being surrounded by 30 other men who were all really thin, and they were much more muscular than me…I was the only person who had a different body type than everyone. And I think it made me go into my head in the moment.
"I think we have such a limiting idea of what it means to be confident in your body as a man. You're not allowed to be confident in your skin unless you are extremely muscular and have a six-pack.
"And I think that's such a harmful idea. And I've been working hard to redefine that...I love my body. I feel confident in it. And I don't need a six-pack to feel that confidence."
Gerges is also on TikTok, where he talks about plus-size menswear. In a couple of his videos, he recreates outfits and clothes that he thinks are cute but cannot find in his size.
In one of his recent videos, he recreated Kim Kardashian's famous Balenciaga caution tape look with a corset and average caution tape.
In another, he recreated a pair of trousers with an image of a Greek statue printed on it by painting a similar image onto a pair of white trousers.
And in others, he styles his own plus-size clothing that he made. 
"There's a very different type of community on TikTok versus Instagram. I find that on TikTok there is such a huge community of people who are just like you, who are trying to figure things out and who want to feel confident and who are looking to you for advice on things," he said.
"The community on Instagram is very different. On Instagram, you're almost bragging about the things that you do."
And like Kapoor, he also shops in both the menswear and womenswear sections. 
"I think advice that I have for someone who wants to shop in the menswear section, but can't find clothes that fit, is to expand your idea of what clothing and menswear is." 
"I think I've learnt that clothes are just fabric. It doesn't really matter if you buy it from the menswear section or the womenswear sections."
According to Windsor, this flexibility is starting to be reflected in the wider clothing market. And many younger people are also shopping beyond the gender divide in stores, blurring the idea of what is and is not menswear or womenswear.
"I think, particularly with millennials, generation Z, generation Alpha, it's a little bit more fluid between how people identify and what clothes they wear," Windsor said.
"I was talking to a menswear aggregator of high-end fashion. And they discovered 20% of their consumer base are women buying menswear for themselves."