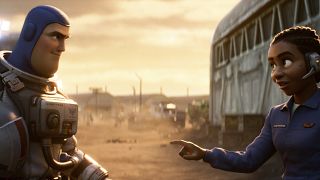 -
Copyright

Pixar/ 2021 Disney/Pixar. All Rights Reserved.
A producer on the Pixar film 'Lightyear' has weighed in on the film's censorship in several countries saying changes wouldn't be made to accommodate 'backward' beliefs. 
The 'Toy Story' spin-off, which has attracted controversy in many Muslim-majority countries, due to its depiction of a lesbian marriage and kiss, has so far been banned from release in 13 countries.
The countries are: Bahrain, Egypt, Indonesia, Iraq, Jordan, Kuwait, Lebanon, Malaysia, Oman, Qatar, Saudi Arabia, Syria and the United Arab Emirates.
"We were warned that this would be a likely outcome," US producer Galyn Susman told AFP.
"But we weren't going to change the film we wanted to make just because of some countries with - for lack of a better term - backward beliefs," she added.
Susman adds her voice to those of the film's cast who earlier this week expressed disappointment over censorship of the film because of LGBT+ content.
"It's frustrating," said Chris Evans, who voices titular character Buzz Lightyear. "It feels good to be a part of something that is making social progress, but it's with this ribbon of bittersweet frustration that at the same time, there are still places that have not caught up."
What is the controversy over 'Lightyear'?
The Pixar film - the latest of the 'Toy Story' franchise which has been running for almost three decades - features a character called Alisha, a lesbian space ranger voiced by actor Uzo Aduba.
The scene in question features her starting a family with her partner and sharing a kiss as a greeting.
"I feel like it's terrible, but at the same time, I feel like we're going to push through that," said actor Keke Palmer, who plays the character Izzy Hawthorne.
"I have a lot of faith and I think storytelling and filmmaking … not to say before its time, but it's on the brink of things like this.
"I just feel like, you know what? It is what it is. I'm glad it's out there where it is and I know in the future it'll be in those places as well," she added.
Disney initially attempted to remove the scene but were forced to reinstate it after an open letter from Pixar employees who objected to the edits.
The letter also raised dissatisfaction with other controversies including the CEO Bob Chapek's response to the so-called "Don't Say Gay" bill in Florida, home state of the Walt Disney World Resort.
Are films censored in the Middle East?
The scandal is the latest headache for Hollywood execs trying to strike a balance between access to a $800 million market in the Middle East and vocal employees focused on social justice.
It was reported that Disney did not even submit 'Lightyear' to censors in Saudi Arabia after 'Doctor Strange and the Multiverse,' 'Eternals,' and 'West Side Story' were all blocked from release due to LGBT+ content.
The film is also banned from release in the southeast Asian country of Malaysia. The censorship body of Malaysia, called LPF, asked Disney for edits prior to banning.
The LPF has already banned 'Rocketman' the biopic of Elton John starring Taron Egerton and 'Fantastic Beasts: Secrets of Dumbledore,' over LGBT+ storylines.
Is social media causing censorship?
Disney had hoped that 'Lightyear' would be released in the UAE where censorship laws have been relaxed. However, due to an outcry on social media over content in the film 'offending Islam' the censor retracted permission for release.
The balancing act between lawmakers and citizens on social media has been causing a headache for streaming and film studios alike.
In Turkey, dismay and anger greeted 'satanic and pagan' costumes featured on the reality show 'The Masked Singer' in the country, leading President Recep Tayyip Erdogan to intervene and demand all TV reflect 'Turkish family values'.
Which other countries are censoring LGBT+ media?
'Lightyear' is just the latest controversy surrounding international censorship and takes place against a backdrop of complex geopolitics and questions around national values.
In 2020 Netflix was forced to cancel its Turkish original 'If Only' after pressure from the Turkish government to remove a gay character.
Meanwhile, in 2018 Chinese station Mango TV was stripped of its rights to show Eurovision after censoring several rainbow flags.