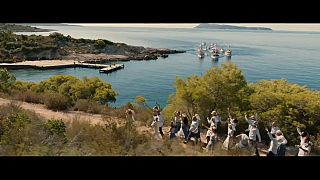 It's taken 10 years, but the cast of Mamma Mia are back for another musical romp through the songs of Swedish mega group Abba. The first film was a huge commercial and critical success taking over €500m at the box office. Enough to tempt some of the orignal actors back for the sequel. And some newcomers too including American singer Cher who admitted the role was more of a challenge than she thought.
"I didn't realize the songs were so complicated and I didn't realize how well orchestrated and produced they were," she said.
Colin Firth, Pierce Brosnan and Stellan Skarsgard all recreate their original roles. But why did it take so long to make a sequel?
"I think the reason it took 10 years to get back here is that not every story needs another chapter to every film needs an encore, not film needs a sequel," explains director Ol Parker. "And so I think it was about finding a way to tell the most emotional and impactful and meaningful story and I think it just took awhile to find that."
"Mamma Mia: Here We Go Again" follows Sophie (played by Amanda Seyfried) who is still living on Greek island of Kalokairi, pregnant with Sky's (Dominic Cooper) child.
Mamma Mia!, which cost just €31m to make went on to become the highest-grossing musical film in the world.