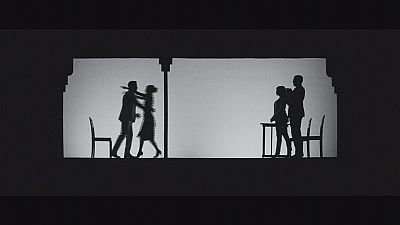 The 73rd Venice Film Festival is up and running with the world premiere of the musical 'La La Land', directed by Damien Chazelle and starring Emma Stone and Ryan Gosling.
The film sees Emma Stone as an aspiring actress and Ryan Gosling as a struggling jazz pianist whose relationship begins to suffer as their careers flourish.
This is the start of something wonderful. From the director of Whiplash starring Ryan Gosling & Emma Stone #LALALANDpic.twitter.com/f2c9VnsVB8

— La La Land (@LaLaLand) August 30, 2016
Festival director Alberto Barbera thinks the film is a tribute to Hollywood classics:"It's a great musical. It's a tribute to the classic Hollywood musicals from Liza Minnelli to Martin Scorsese and from a contemporary perspective with a contemporary sensibility."
The feature is directed by 31-year-old by the 'Whiplash' director American filmmaker Damien Chazelle:
"Now more than ever we need hope and romance on the screen and I think that there is something about musicals that just get at something that only movies can do.That idea of movies as a dream land, movies as the language of our dreams and movies as a way of expressing a world in which you break into song – that emotions can violate the rules of reality."
Another remake, this time 'The Magnificent Seven' taken from the original John Sturges western made in 1960 will close the event.
THEMAGNIFICENTSEVEN releases nationwide on Friday September 23. #DenzelWashingtonpic.twitter.com/XqbqBBVQnz

— SixBrownChicks (@SixBrownChicks) August 31, 2016
Mel Gibson returns to direct 'Hacksaw Ridge' the film follows WWII American Army Medic Desmond Doss, who served during the Battle of Okinawa, he refuses to kill or carry a weapon and becomes the first conscientious objector in American history to be awarded the Medal of Honour.
One of the bravest men on the WWII battlefield never even touched a weapon. #HacksawRidge – In theaters November 4. pic.twitter.com/Y5abDrFG0e

— Hacksaw Ridge (@hacksawridge) August 31, 2016
Among the 20 movies vying for the Golden Lion this year is Denis Villeneuve's sci-fi feature 'Arrival'.
When mysterious spacecraft touch down across the globe, an elite team, lead by expert linguist Louise Banks, is formed to investigate.
Here's a new promo pic for #Arrival (2016 #SciFi movie).#AmyAdams. pic.twitter.com/mdqmE40siL

— OnlyFilm (@OnlyFilm) August 26, 2016
French actor Jean-Paul Belmondo and Polish director Jerzy Skolimowski are the recipients of the Golden Lions for Lifetime Achievement given by the festival this year.
The Venice Fiilm Festival runs until September 10.