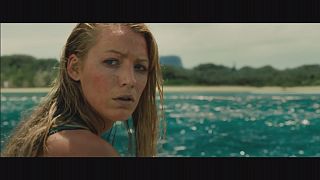 "The Shallows," by Catalan film director Jaume Collet-Serra, stars Blake Lively as Nancy, a medical student out surfing when she's attacked by a great white shark.
It's an isolation film. For better or worse it was a one-man show by and large

Actress
Nancy finds safety on a rock about 200 metres from the shore. From there, she can stitch her bloody leg – we won't tell you exactly how – and witness other surfers get attacked.
The film has reaped twice as much as expected so far in the United States, and some critics are calling it the best shark movie since Jaws.
"It's that great (Alfred) Hitchcock quote which I'm going to paraphrase which is that the fear is never in the bang, it's in the anticipation thereof and that's what's fun about a movie like this. Every time that camera goes underwater and you're looking at somebody above water, that perspective is so chilling," Lively said.
Surfer girl. Peckish shark. Uh-oh! "The Shallows" https://t.co/tuiQEyQaE7pic.twitter.com/uL1IQntEyy

— New York Times Arts (@nytimesarts) June 26, 2016
This nail biting thriller has earned surprisingly strong reviews, including for Lively's performance, which carries the entire film.
"It's an isolation film. For better or worse it was a one-man show by and large and that's intimidating as an actor but that's also what's fun as an actor, to challenge yourself and do things that you don't think you can do," Lively said.
The Guardian called it "a refreshing splash", "without an ounce of body fat on its script". But other critics found those strengths a bit too shallow for a movie.
"The Shallows" is on global release this summer.
Is it worth going for a dip in #TheShallows? Our review of the new Blake Lively film. https://t.co/IF1m55lTsDpic.twitter.com/rMEWhoo3qT

— Variety (@Variety) June 25, 2016