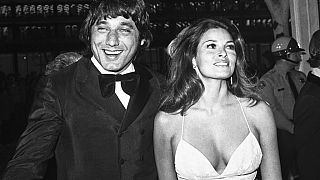 -
Copyright

Anonymous/AP1972
Hollywood star Raquel Welch, whose emergence from the sea in a skimpy, furry bikini in the film 'One Million Years B.C.'  made her an international sex symbol throughout the 1960s and '70s, has died. She was aged 82.
Welch passed away early on Wednesday after a brief illness, according to her agent, Stephen LaManna from the talent agency Innovative Artists.
Welch's breakthrough came in the1966 cult prehistoric flick 'One Million Years B.C.,' despite having a grand total of three spoken lines. Clad in a brown doeskin bikini, her performance made her an instant sensation.
"I just thought it was a goofy dinosaur epic we'd be able to sweep under the carpet one day," she said in 1981. "Wrong. It turned out that I was the Bo Derek [an American actress and model] of the season, the lady in the loin cloth about whom everyone said, 'My God, what a bod' and then expected to disappear overnight."
Welch was born Jo-Raquel Tejada in Chicago and raised in La Jolla, California. Welch was a divorced mother when she met ex-actor turned press agent, Patrick Curtis.
Her curves and beauty also captured pop culture's attention, with Playboy crowning her the "most desired woman" of the '70s, despite never being completely naked in the magazine. 
In 2013, she graced the No. 2 spot on Men's Health's 'Hottest Women of All Time' list. 
In addition to acting, Welch was a singer and dancer. And she surprised many critics and attracted positive reviews when she starred in the 1981 musical 'Woman of the Year' on Broadway, replacing Lauren Bacall. She returned to the Great White Way in 1997 in 'Victor/Victoria'.
She admitted her glamorous image meant she was not taken seriouely by some people.  "I'm not Penny Marshall or Barbra Streisand," she said in 1993. "They'll say, 'Raquel Welch wants to direct? Give me a break."'
Married and divorced four times, she is survived by two children, Damon Welch and Tahnee Welch, who also became an actress, landing a featured role in the 1985 film 'Cocoon'.