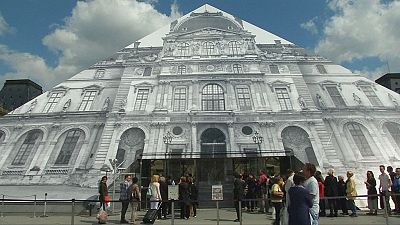 French artist JR has made the Louvre's iconic glass pyramid disappear by covering the Parisian landmark with a gigantic paper photograph of the museum.
The 33-year-old, who started out as a graffiti artist, said he hoped this optical illusion would reignite the debate on modernism that divided French society when this monument was designed in the 1980s.
"When arriving at the Louvre, people will all notice the absence and I'm curious to see how they will react," added the French artist. "Hundreds of tourists take selfies with the pyramid everyday, so I wanted to make it harder for them. I want them to actively look for it and talk to each other while moving around to find the best spot to take the picture."
Known only by his initials, JR has displayed his work on city walls in Brazil, China, Cuba, Sierra Leone and the
U.S.
This particular project will be on view in the French capital until June 27.
#Disparition#Magie#ArtJRart</a> <a href="https://twitter.com/MuseeLouvre">MuseeLouvre JR fait disparaître le Louvre https://t.co/diAQad83lnpic.twitter.com/d0rb0Lu6SN

— Béatrice Martini RP (@BeaMartiniRP) 24 May 2016
Not far from the Louvre, Paris' Pont des Arts is also home to a new exhibition of sculptures by the French contemporary artist Daniel Hourdé.
"All my trees were made out of metal and steel to look like the bridge," said Hourdé. "The aim is to reflect the landscape. Between those trees, which vibrate with the wind, are traditional sculptures made of bronze. These mythological characters represent my work perfectly.
This is the kind of art I usually make."
Built in 1801, le Pont des Arts, which was designed by architects Louis Alexandre de Cessart and Jacques Vincent de Lacroix Dillon, is one of Paris' most famous bridges.
Hourdé's exhibition runs until 12 June.
Art is coming back to Paris' Pont des Arts bridge https://t.co/5WMCGltpnwpic.twitter.com/ZmICpMsxT3

— Newsweek (@Newsweek) 28 May 2016