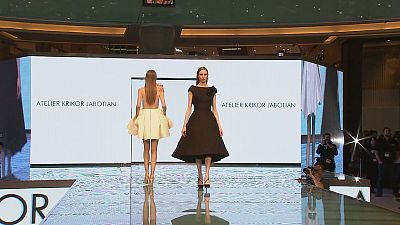 Budding fashion talents have been showcasing their designs in Dubai.
Held in one of the world's largest shopping malls, the Vogue Fashion Dubai Experience is aimed at putting regional brands on the international radar.
Among the eight designers selected to display their work this year was Saudi creator Reem al Kanhal whose third collection 'Window to the Soul' received critical acclaim for its contemporary exploration of traditional Saudi dress.
The young designer told euronews that rather than follow seasons, she goes where her inspiration takes her: "My style is feminine and androgynous. It's edgy. A lot of people tell me it's that a bit avant-garde because it's not the usual thing that they get from a Saudi or Arabian designer. So it relies on plain fabrics and popelin. Behind each collection I have a story."
A graduate of the prestigious ESMOD fashion design school in Beirut, Krikor Jabotian began working in Elie Saab's creative department before launching his own brand. The designer is famous for his Middle Eastern detailing and European sensibility applying techniques like pearl beading and sculptural embroidery on outer layers of gowns.
"I'd love to believe that the pieces I create are statement pieces yet at the same time wearable. Given the fact that I am Lebanese with Armenian origins, I think this is goes without saying in my creations and I think it's very enriching for me to have both cultures: the Lebanese – the Oriental – and the Armenian," he said.
For the first time this year, Vogue Fashion Dubai is presenting a scouting competition called 'Who is on Next?', open to newcomers from across the Middle East, Africa and Asia. The winners will get a chance to take part in major Italian fashion events, including Milan Fashion Week.
Among the 25 rising talents selected was Lebanese designer Hussein Bazaza. He talked to euronews about his sources of inspiration: "Every season I have different inspirations. For my spring-summer 2016 collection I was inspired by Persia – all the architecture, the paintings, the arts. I found very interesting subject to add to my collection and my inspiration is the nuclear bomb. So, I used the nuclear bomb as well as an inspiration."
Dubai is the world's biggest luxury market, accounting for nearly a third of the market share. The Middle East consumer also has the highest per capita spending on luxury goods at about 1400 Euros per year.