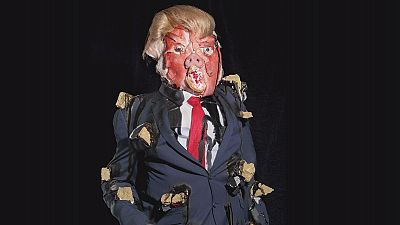 Donald Trump as seen by British artist James Ostrer is a dogs' dinner of raw meat and surfaces with an unhealthy, microbiotic sheen. The U.S. Republican presidential frontrunner Donald Trump has been pilloried and caricatured in many ways but the photographer James Ostrer has now used raw pig and sheep parts to represent him in a show in Hong Kong, part of a series the artist calls "The Ego System".
"I think I kind of wanted to create an icon, a visual icon, of, I suppose, the megalomania that's got to the point where his need for attention is overriding any kind of relationship or care for anyone else in the world really." He admits Trump was his starting point.
The artist said he created the artworks because he wanted to underpin his own and our collective obsessions with the glorification of celebrity and its dark and seedy underside. We get the picture.
"Well, I mean, so if you look at the elements in the work, it's full of references to the commodities market. Whether that's crude oil pouring out of the holes of his suit. Or chunks of rubble I've painted gold in reference to his empire of buildings. And, you know, essentially although it seems clear that financially he would have been better off just investing all of his inheritance, most of which has been involved in his failed business ventures but at the same time promising to make America great."
Also featuring in Ostrer's rogues' gallery of myth bearers and false prophets are jailbait icons like members of boy band "One Direction", and Miley Cyrus.
Her face is in pig-skin, with an ox tongue as nose and arms. Sheep's eyes and cow hoof horns frame a blonde mop of hair.
Super golfer Tiger Woods gets the full treatment, too. Ostrer's work can be seen at the Gazelli Art House in London