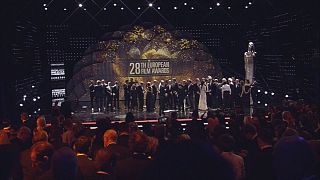 The great and the good of the European film industry flocked to Berlin for the 28th European Film Awards.
As well as a celebration of the continents varied cinematic talent there were calls for European unity in the face of economic unease and the rise of populist politics.
Film director Wim Wenders is the President of the EFA:
"Europe is under growing stress politics is looking to tear us apart. European cinema show how we can unite. That is the mission of European cinema.''

#EFA2015: #WimWenders "we must stand up and remember that nothing good has ever grown out out of fear" pic.twitter.com/CQglt2v1SU

— fred.fm (@FredFilmRadio) December 12, 2015
Michael Caine received an Honorary Award and picked up the best actor prize for his role in Paolo Sorrentino's comedy 'Youth,' Caine said being natural is the key to humour on film:
''In cinema you mustn't try to be funny you have to be very real because you have to be a real person who does something funny not a comedian who tries to be funny.''

'Youth' Wins Big at European Film Awards https://t.co/LGt57xD3Cypic.twitter.com/WzPG32FsS8

— THR International (@THRGlobal) December 14, 2015
Sorrentino won Best Film and Best Director for 'Youth.'
For Michael Caine a good film is based on collaboration: ''It's is about team work and that's what we were.. A wonderful team because every single actor in this film was fabulous.''

The award European Film 2015 goes to YOUTH by Paolo Sorrentino! #efa2015pic.twitter.com/WalwzyqIRg

— European Film Awards (@EuroFilmAwards) December 12, 2015
Charlotte Rampling received a lifetime achievement award and the best actress gong for '45 Years' she plays opposite Tom Courtnety
as a marriage falls apart.

CHARLOTTE RAMPLING is European Actress 2015 for 45 Years! #efa2015pic.twitter.com/JXP9RDjY2J

— European Film Awards (@EuroFilmAwards) December 12, 2015
Veterans Michael Caine & Charlotte Rampling double winners at European Film Awards pic.twitter.com/mXNcbeQucN

— Celebrity Tv (@Celebrity__Tv) December 14, 2015
The comedy award went to the hysterical and bizarre
'A Pigeon Sat on a Branch Reflecting on Existence' by Swedish director Roy Andersson

A Pigeon Sat on a Branch Reflecting on Existence is my favourite nominated for #efa2015pic.twitter.com/LXJcYpNKxz

— Mauro Gervasini (@MauroGerva) December 10, 2015
A Pigeon Sat On A Branch Reflecting On Existence is certainly an odd little curio. It really defies explanation pic.twitter.com/CbXF4xRwa0

— Chris Taylor (@mrchristr) December 8, 2015
"I am a happy man that I am a funny man. It's worthwhile this prize. I got a Golden Lion in Venice. it shows another side of my work."
The European Discovery award went to 'Mustang' a first by Turkish director Deniz Gamze Ergüven.

MUSTANG comes to @cinefamily in #LA next Friday 12/18! https://t.co/nausrCndvm#MustangFilmpic.twitter.com/gh3y1nk9jf

— Cohen Media Group (@CohenMediaGroup) December 12, 2015
The multi-award winning film follows five orphaned sisters as they grow up in a remote, conservative Turkish village.
Director Deniz Gamze Ergüven explained her motivation: ''It is told like in the manner of a story, which then uses poetry to move away from reality, its an emotional response to a certain type of social reality.''

#MustangFilm is nominated for Best Foreign Language Film at 73rd Golden Globe Awards! #GoldenGlobes@goldenglobespic.twitter.com/BUPWN4VDrz

— Mustang Film (@mustangfilm) December 10, 2015
For double Oscar winner Christoph Waltz, it is diversity which is key to European cinema:

why christopher waltz looking like Logic after 30 years omg pic.twitter.com/euKjqfwK1z

— samo-rai (@dispirits) November 22, 2015
"Fortunately there is no overall European cinema – sometimes its connected artificially to get financing, but its never has a real identity, because in the end we are all proud to be European, but in the end we are all children of our own cultural background."
Waltz was handed the prize for European Achievement in World Cinema.
Euronews arts correspondent Wolfgang Spindler reports from Berlin: "This years winners of the main awards belong to established talent of European cinema.
The younger generation of filmmakers and actors had to take a back seat while the European Film Awards went elsewhere.''

The #EFA2015 winners. What a beautiful celebration of European cinema. Congratulations! pic.twitter.com/isE7WANv8v

— European Film Awards (@EuroFilmAwards) December 12, 2015