'Youth' scoops three gongs at European Film Awards in Berlin
Comments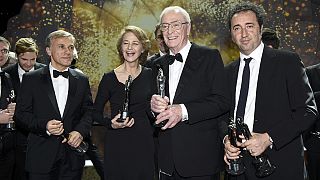 Comedy drama "Youth" has triumphed at the European Film Awards in Berlin.
It scooped three gongs – best movie, best director and Britain's Michael Caine got best actor for his role. Caine, 82, was also awarded an honorary prize.
"This is a small movie about the perception about the freedom that we have and I am very happy that this movie received an award because the most important thing now in Europe is exactly this – the perception of the freedom that we will have," said Paolo Sorrentino, Director of "Youth," as he took to the stage.
British-born Charlotte Rampling scooped Best Actress for her part in "45 Years" – a film about a marriage in crisis. She also picked up a lifetime achievement award.
Speaking from Berlin, euronews reporter Wolfgang Spindler, said: "Of course the European Film Academy also celebrated the cultural diversity of Europe and independent cinema, which does not want to mix with the commercial movie industry.
"It makes sense that Paolo Sorrentino's work, with it's great actors, performance and camera work, has triumphed."
Full the full list of winners of this year's European Film Awards click here