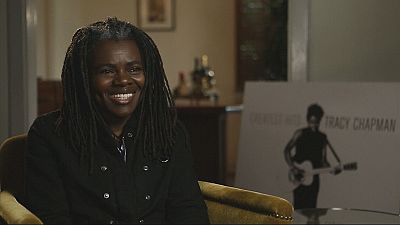 It has been a long time coming but Tracy Chapman has finally released a "Greatest Hits" album.
The American singer-songwriter says she was reluctant to put together the compilation as going through all the songs she's released since 1988 seemed a daunting task.
"The record company wanted this record a long time ago; maybe five years ago and I have been hesitating but it seemed like a good idea. I felt ready – before I wasn't in one of those look back moods," said Chapman.
The new collection brings together classic tracks like "Talking 'Bout a Revolution," and "Telling Stories."
Known for her political and social activism, Chapman is paying close attention to the upcoming US presidential elections.
"Bernie Sanders and Hillary Clinton – those are the only two as far as I'm concerned. It's a pretty chaotic scene out there right now at least on the Republican side. It's more of a circus than a political discourse," added Chapman.
Several of Chapman's songs are concerned with injustice, a topic that's as timely as ever she believes: "In the case say of some of the racist abuse that's recently come to light I think it's something that we are now able to document that individuals out in the street are able to document these things that have happened and it's not just anecdotal. Unfortunately, for every black person in America, racism is a part of life."
Tracy Chapman's "Greatest Hits" album is out now.