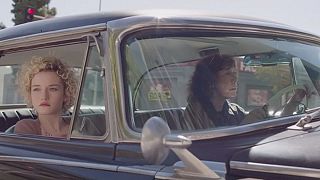 Grandma, Paul Weitz's latest movie is a tragicomedy tale of Elle Reid and her grand-daughter who needs to get cash together by the end of the day for an abortion.
The film follows the pair as they take a road trip around Los Angeles trying to borrow the money from various characters from Elle's past.
Weitz says the main role was partly inspired by his own grandmother – a tequila drinking Mexican film star…
"I liked poking fun at the image of what one thinks of when you think of a granny and in this case I love the idea of a grandmother who is more prone to get into fights and to be a bull in a china shop than her 18-year-old granddaughter."
It is actress and comedienne Lily Tomlin's first leading role in 27 years. Such parts in Hollywood she said are few and far between: "It was a great opportunity that Paul had written something for an older woman who was as alive and interesting as Elle is and all the things that it touches on. Lesbianism, being a poet, being an academic, having a granddaughter who gets pregnant and needs your help, can't afford anything, can't afford an abortion or anything, and a grandmother who is wise enough to counsel her, and talk to her in a totally sensible adult kind of way about the choice she's making."
After premiering at the Sundance Film Festival in January, the film has received widespread critical acclaim, and there are now even stirrings on the rumour mill that Tomlin's performance may well be recognised at next year's Oscars.