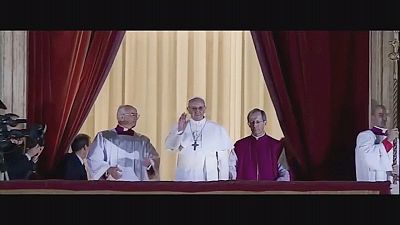 The first biopic of Pope Francis is hitting the big screen.
Based on an Argentinian bestseller about the Pope, 'Call me Francis' follows the story of Jorge Bergoglio, the son of Italian immigrants from Buenos Aires, from his youth to his election as head of the Roman Catholic Church in March 2013 – a journey that lasts over more than half a century, set against the backdrop of Argentina's turbulent history.
The film's director, Daniele Luchetti, who is not a Catholic, said he felt a strong connection to the Pope, adding that he made the film to try and understand why so many people felt that way: "Through the hell that this man had to go through, we understand how he matures, how he grows and how he has this incredible opportunity at the end of his life to reach the highest point and to do what he basically wished for as a child, that is to help others and live his calling to the highest point."
Young Argentinian actor Rodrigo de la Serna, best known for starring alongside Gael Garcia Bernal in 'The Motorcycle Diaries', plays the young Bergoglio. Chilean actor Sergio Hernandez portrays the Pope in more recent years.
"You ask me what it means for an Argentinian actor to play these difficult years in my country's history, and to portray the vision of a particular character," says de la Serna. "The Church and its actions have always been put into question and for an Argentinian to play a man of the Church is difficult because a lot has happened on our continent."
"What Daniele (Luchetti) told me was 'I don't care much whether you look like the character, what I care about is how you feel inside'," said Hernandez. "From then on, I worked every day on researching Bergoglio's character."
'Call me Francis', which enjoys pontifical approval, premieres at the Vatican on December 1st, before hitting Italian cinemas. It is expected to go on global release early next year.