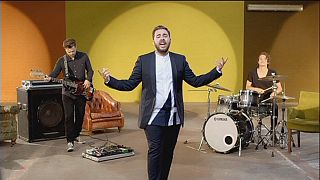 He was one of the most noticed names in the 2014 X Factor competition.
Now, Italian singer Andrea Faustini, who quit university in Rome to pursue his singing dream, has become a household name in the UK and is launching is first album, 'Kelly'.
"During the last year, my life has changed so much," he says. "Just a year ago I was studying Chinese, I was taking my exams at university and now I'm releasing an album. It's so weird and it seems normal because everything happened so, so quickly but it's not normal at all."
Faustini's career started at the age of 13 when he won an Italian talent show.
The young artist knows how to charm audiences with his smile and sense of humor – all of which is reflected in his debut single, 'Give A Little Love', a self-penned gospel inspired track.
"I just wanted a pop album with R & B and gospel influences and I think it's what 'Give A Little Love' is about. I think it was a very nice message to give to people as it reflects my personality. So I like to smile even in tough times, I like to be a positive person. So this is what life is about to me and this is what 'Give A Little Love' is about," he says.
The ten-track debut album features eight original songs, as well as a cover of 'I Didn't Know My Own Strength':https://www.youtube.com/watch?v=GxpwR_vIA_k, Faustini's X Factor song.
His debut album 'Kelly' is out now.