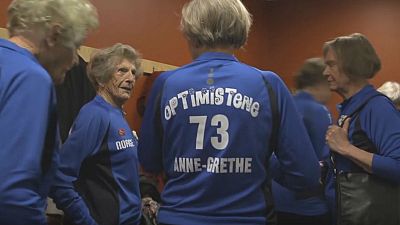 This week's choice is 'The Optimists', a Norwegian documentary film which will touch you, make you laugh and make you want to play volley-ball.
Norwegian director Gunhild Westhagen Magnor follows the story of a group of elderly women who meet up every week to play volleyball. The youngest is 66, the oldest 98!
One day, they decide to organise a real game. But the only team available lives in Sweden and is made up of men younger than them. As they become aware of their technical deficiencies, the players start taking practice seriously.
Eschewing the usual clichés about old-age, the film shows a group of people who are enthusiastic and lead fulfilled lives despite some health problems.
It's not every day that a group of active, elderly women plays a lead role on the big screen.
We hope you enjoy the movie, see you soon.