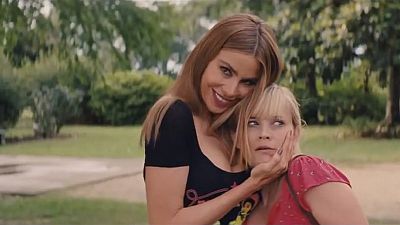 'Hot Pursuit' is a new comedy starring Reese Witherspoon as an uptight police officer charged with protecting the widow of a drug lord, played by Colombian-born actress Sofía Vergara.
Asked about the timing of the movie, which coincides with the riots against police violence in Baltimore, the film's director, Anne Fletcher, said it is not making a statement in any way but just meant to draw some smiles.
"I did think about it for a moment in one of our scenes, I was like 'Oh God this is so… you know something so real in our country is going down.' And we have a little bit of playfulness with it. Hopefully, I think that the movie doesn't take any of it as seriously, and it's all done in fun and silliness and hopefully you'll just enjoy what we've created."
Oscar-winner Witherspoon co-produced the movie, which is executive produced by Vergara, who is one of the highest-earning women in US television.
While they are different in many ways, from looks to personality, the two actresses share a sharp business sense, which they brought to their work on the film.
"When I got the chance to meet her and work with her I was so blown away by her just as an actress, a comedian and also as a businesswoman. I mean she's got an incredible career and she's a real inspiration to me," said Witherspoon at the film's Los Angeles premiere.
"I've been able to do every single thing that I've wanted to do with my life and my career," said Vergara. "I think once you take those things out of your mind and you show what you can do, nobody is going to question you."
'Hot Pursuit', starring Reese Witherspoon and Sofía Vergara, is on worldwide release from 7 May.