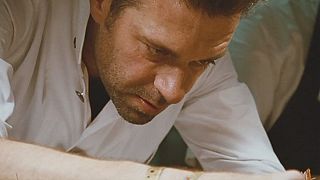 Dutch filmmaker Willemiek Kluijfhout's latest culinary documentary steps into the kitchens of top chef Sergio Herman, one of only two cooks ever to obtain the top score in the famous Gault Et Millau food guide.
After reaching the top, Herman decides he has sacrificed too much in his personal life and closes down his world-famous eatery, Oud Sluis.
The film's director explains that shooting was made easier by the fact that Herman and his busy team soon forgot there was a camera in the kitchen:
"They had so much to do in the kitchen, they had no time really to realise that a camera was there. But it was small though. Especially as it was really difficult to be there," says Willemiek Kluijfhout.
The film provides an intriguing fly-on-the-wall view on what goes one inside a first class restaurant ranked among the top 50 in the world.
The chef opens up to the camera about his concerns and doubts as he makes tough choices, in a documentary that explores the themes of ambition, sacrifice and, of course, the quest for perfection: "I was on my highest point over there and if you have 20 out of 20 (points) in Gault et Millau and 3 Michelin stars, then for 9, 10 years the best restaurant in Holland, and you're in a kitchen without glass for 25 years, yeah, then it's enough for me," says top chef Sergio Herman about his decision to shut down his restaurant.
After taking some time out with his family, Herman has since opened a new bar-restaurant in an old church in Antwerp – proof that stopping is not an option for this chef obsessed with culinary perfection.
Recently screened at the Berlin Film Festival to mostly critical acclaim, the documentary is set for release in Europe later this year.