Nearly 100 arrested during another anti-security law protest in France
Comments
By Euronews with AFP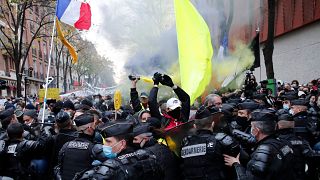 -
Copyright

AP Photo/Francois Mori
Protesters clashed with police in Paris on Saturday as demonstrators once again took to the streets of France amid uproar over the government's new security law.
A total of 95 people were arrested during the protests, which were at times marked by violent incidents between demonstrators and police. 
Interior Minister Gérald Darmanin said 67 police officers were injured, 48 of those in Paris which saw the biggest protest.
Over 50,000 people turned out across the country, 5,000 of them in the capital, the Interior Ministry announced.
Twenty-five people, including two minors, were taken into custody in Paris, the prosecutor's office said.
The majority of those held in police custody are there for "participation in a group formed to commit violence", the same source said, according to a report drawn up at midnight.
In Nantes, where violence was also committed, four policemen and a gendarme were injured, one of them by a molotov cocktail, according to a report issued by the Loire-Atlantique prefecture. 
The demonstrations were held against police violence in the country, as well as protesters demanding better economic security.
Almost 90 rallies were organised, with a procession in the capital Paris starting just after 2 pm, with participants holding banners that read: "Liberty, Equality, Fraternity, for whom?"
Darmanin thanked police, saying: "Thank you to the forces of law and order mobilised today, sometimes in the face of very violent individuals."
The unrest is largely over a global security bill that would have made it illegal to film and identify police officers with the intent to "harm their physical or psychological integrity".
After widespread outcry over the proposed bill, the government made a concession and said it would revisit that specific clause. But opponents its say the bill could undermine the freedom of the press, freedom of expression and freedom to demonstrate.
Last weekend, the organisers of the demonstrations - a collective of trade unions and associations - said there were around 500,000 people out on the streets.
The ongoing wave of protests that was only fuelled by a video being shared online of the police beating of Black music producer Michel Zecler.
French President Emmanuel Macron said in an interview on the website Brut on Friday: "I cannot let it be said that we are reducing freedoms in France. It's a big lie. We are not Hungary or Turkey."
He has denounced the violence used by some police officers and protesters.
"I have no problem repeating the term police violence but I deconstruct it," because "it has become a slogan for people who have a political project," including "the extreme left," he said.
The prefects in some cities, including Bordeaux and Montpellier, banned any marches in the city centre fearing new violent outbursts on Saturday. In Lyon, demonstrations are only authorised on the left bank of the Rhône river.