COVID-19: UK government pledges €680 million to fight virus in care homes
Comments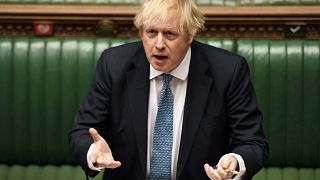 -
Copyright

Jessica Taylor/UK Parliament via AP
_Watch live \__as the UK government gives an update on COVID-19 from 18:00 CET by clicking on the video player above._
Below are Wednesday's developments. Click here for Thursday' updates.
UK economic output shrinks by 5.8% in March as COVID-19 death toll passes 38,000 - ONS

Italy reports 1,402 new cases in large daily rise, mostly in Lombardy

Britain's government unveiled a €680 million package to help care homes control the virus

US Federal Reserve warns of prolonged recession from coronavirus crisis
05.13.2020
23:08
Britain's iconic Old Vic theatre facing financial collapse due to pandemic
London's Old Vic theatre has had to furlough most of its staff since the government shut down cultural institutions around the country to contain the spread of the deadly virus. No date yet has been set for when theatres and cinemas may be allowed to reopen.
Other theatres are also under pressure, including the Nottingham Playhouse. Its artistic director told Euronews that "the arts and theatre specifically do need more help (than other sectors) because until we can get back on our feet, until we can get the audiences in, we're not going to be able to become financially stable."
05.13.2020
22:05
US COVID-19 death toll increases to 82,246
The number of confirmed cases rose by 21,467 to 1,364,061.
05.13.2020
20:50
Coronavirus: France records sharp drop in crime during lockdown
Recorded cases of thefts, sexual violence and burglaries have fallen across France since the beginning of the COVID-19 pandemic, official statistics show.
The most noticeable decline pertained to non-violent thefts on people with some 4,000 victims identified last week, down from 12,000 during the same week in 2019 and nearly 14,000 in the first week of March.
Thefts involving vehicles have meanwhile more than halved since the beginning of March to reach 4,500 last week. Law enforcement noted, however, that this represented a "significant" rise from the previous week when fewer than 4,000 instances had been recorded.
05.13.2020
20:21
Russia records more than 10,000 new cases for 11th day in a row
A further 10,028 infections were recorded in Russia over the previous 24 hours, the country's
Coronavirus Crisis Centre
said on Wednesday.
It's the 11th consecutive day that the country has recorded more than 10,000 new cases.

With 242,271 confirmed cases, Russia is now second to the US in terms of infections.
Its death toll currently stands at 2,212 after a one-day increase of 96 fatalities. 
05.13.2020
20:10
Italian COVID-19 death toll now over 31,000
The number of known COVID-19 fatalities in the country now stands at 31,106.
Italian has so far recorded 222,104 infections.
05.13.2020
20:02
French coronavirus death toll passes 27,000, with 83 new deaths
The number of people who have died in France of coronavirus passed 27,000 on Wednesday as authorities announced 83 new deaths.
The number of patients in intensive care in France continues to decrease, the French health authority said. From the first time since 24 March, there were less than 2,500 patients in intensive care (2,428).
The COVID-19 pandemic has killed 27,074 people in France since 1 March. 
05.13.2020
19:53
Greece to reopen some beaches from Saturday
Greece will allow the reopening of some beaches on Saturday when a heat wave is expected to hit the country.
The Civil Protection Agency has said the measure would affect 515 beaches in Greece, where shade umbrellas must be planted at least 4 meters (13 feet) apart, and a maximum 40 people will be allowed per 1,000 square meters of beach.
It's part of the gradual easing of lockdown restrictions in the country.
On Wednesday, health officials announced 16 confirmed infections and three more deaths, bringing the total to 2,760 and 155, respectively.
05.13.2020
19:42
100-year-old Russian woman recovers from coronavirus
A Moscow hospital has discharged a 100-year-old woman after she successfully recovered from the new coronavirus Wednesday.
Pelageya Poyarkova was admitted to a hospital for treatment after being diagnosed with the virus at an early stage.
"Despite a certain number of complications in her cardiovascular system, she turned out to be a tough grandma," said Vsevolod Belousov, a doctor at the hospital where Poyarkova was treated.
"She didn't have to go to intensive care, she was in the ward the whole time and received the standard therapy: anti-inflammatory drugs and anti-coagulants," he added.
Upon here recovery, she was greeted by a crowd of journalists who brought gifts and flowers, and then wheeled out of the hospital by a volunteer to return home.
Russia has recorded 242,271 official cases of the coronavirus, with 48,003 official recoveries.
05.13.2020
19:29
Coronavirus: UK should have quarantined airport arrivals 'much earlier' in COVID-19 outbreak
Introducing a two-week quarantine on travellers arriving into UK airports should have been done much earlier in the outbreak, an expert has told Euronews.
UK Prime Minister Boris Johnson announced plans for the isolation measure as he addressed the nation on Sunday (May 10) evening and laid out a plan for gradually easing the country's COVID-19 lockdown.
He said that with the transmission rate of the disease now "significantly lower" it was time to introduce the quarantine.