Franky Zapata fails in attempt to cross the English Channel with 'flyboard'
Comments
By Euronews with REUTERS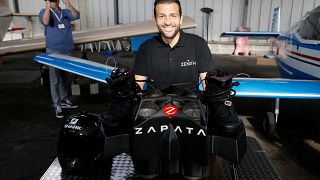 Copyright

REUTERS/Pascal Rossignol
French inventor Franky Zapata has failed his attempt to cross the English Channel on his jet-powered hoverboard after he missed a landing platform mounted on a boat on which he was meant to refuel, a member of his technical team has said.
He was not injured by the fall.
"We practiced this manoeuvre dozens of times in heavier seas, with platforms that moved more, without any problems," the technician said.
"It wasn't the wind, it was the waves". The platform was two meters above the deck, every movement of the boat is exaggerated."
Zapata became known as the "flying soldier" when he showed off his invention before the world's media at France's Bastille Day military parade on July 14.
On Thursday morning, he set off from Sangatte on the north French coast in an attempt to fly to Dover in the UK. He was aiming to cross the channel in around 20 minutes. He was flying at 140 kilometres per hour at an altitude of between 15 to 20 metres.
Zapata's attempt was set to coincide with the 110th anniversary of the first-ever flight across the English Channel in an aeroplane, achieved by Louis Bleriot.
Want more news?