Guy Verhofstadt slams Britain's decision to abandon European family
Comments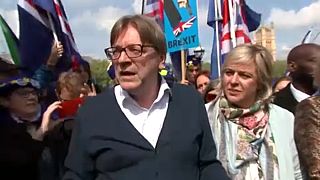 Guy Verhofstadt, the Belgian MEP and leader of the Alliance of Liberals and Democrats for Europe, said the decision by Britain to abandon the European family has caused more damage than could have ever been imagined.
The head of the Alliance of Liberals made this statement during a visit to north London, alongside Vince Cable, the leader of the Liberal Democrats in Britain, and his Liberal Democrat MEP candidates.
"We want to be the alternative against all populists and nationalists in Europe. So we said let's go to the city and the country where these populists and nationalists have created this mess, as today. So that we can show to the rest of Europe on the continent, never, never, never again an exit," Guy Verhofstadt said.
Guy Verhofstadt is the target of strong criticism in Britain for his statement in a BBC documentary about Brexit called Behind Closed Doors, where he said that Olly Robbins, Britain's chief Brexit negotiator, wanted to become a Belgian citizen after Brexit.
"Where is your British sense of humour," Guy Verhofstadt said in an attempt to suggest it was a joke.