Brazil: Flamengo fire death victims all teenagers
Comments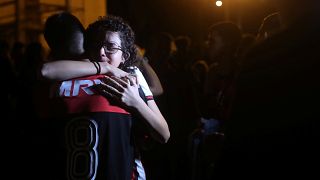 Fire swept through an unlicensed lodging at the training centre of Rio de Janeiro soccer club Flamengo on Friday, killing 10 members of the club's youth team and injuring three more, one of them seriously, firefighters and news reports said.
All 10 of the dead were aged between 14 and 16 and either played for the club or were having trials there, according to detailed information on Brazil's Globo website.
The three injured players were taken to hospital, one of them in serious condition with burns across 30 per cent of his body, Flamengo said in a short statement.
The Rio de Janeiro mayor's office said the dormitory destroyed by the blaze was built on land that was not registered for buildings and that the club had no permission to erect lodgings there.
"On the project protocol the area is described as a parking lot," the office said in a statement. "There is no register of a new request for a license to use the area as a dormitory."
Firefighters said they arrived at the Ninho do Urubu, a state-of-the-art training center that was expanded and opened only two months ago, shortly after 5am (0700 GMT) to find the building engulfed in flames.