Belgrade sees seventh week of anti-government protests
Comments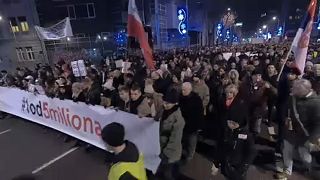 More than 10,000 protesters marched through the Serbian capital Belgrade on Saturday, demanding press freedom and electoral reform.
It marked the seventh week of protests against President Aleksandar Vucic, who critics say is becoming increasingly autocratic by restricting press freedom and using hate speech against his opponents. The demonstrations started after an opposition leader was physically attacked last November.
"I came here to protest because there is no state any more. All power is concentrated in hands of one man," doctoral student Luka Tripkovic told Reuters.
Crowds chanting "Vucic go away!" marched to the headquarters of state TV, which has largely ignored the weekly protests.
The anti-government rallies have now spread from Belgrade to other cities around the country.
President Vucic says he won't bow to public pressure and is willing to test his party's popularity in a snap vote.
Saturday's rally comes after a visit by Russian President Vladimir Putin on Thursday. He was welcomed by tens of thousands of government supporters, bused in from around the country.