Crowdfunding battle: Rival campaigns set up for French police and detained ex-boxer
Comments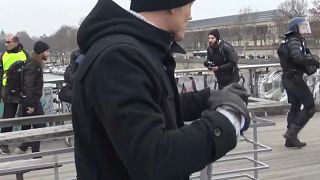 A crowdfunding website has shut down a campaign for the former French professional boxer who handed himself in to police on Monday after he was filmed repeatedly punching officers during this weekend's gilets jaunes (yellow vests) protest in Paris.
Leetchi put out a statement explaining their decision to close the campaign.
"Our general terms and conditions of use prohibit any incitement to hatred or violence. In view of the acts alleged against Christophe Dettinger, no other use of the purse can be accepted."
The campaign surpassed €117,000 on Tuesday morning, with more than 7,500 people pledging donations.
'Absolutely immoral'
The President of the southern Provence-Alpes-Côte d'Azur (PACA) region, Renaud Muselier, also took issue with the campaign for Dettinger and on Tuesday launched a rival crowdfunding appeal.
His page said it aimed to raise money to benefit the "1,050 law enforcement officers wounded" during Gilets Jaunes protests over the last nine weeks.
"A kitty was launched yesterday on the leetchi.com platform in favour of the thug who attacked our police," Muselier wrote.
"Apart from the absolutely amoral nature of this approach, which should be denounced, it is our duty as supporters of the Republic to respond to this initiative.
"So, I decided to launch a campaign on the same platform for police, gendarmes and firefighters wounded in the misbehaviour that our country has suffered from since November.
"We owe so much to them," he added.
By 6 pm CET on Tuesday, nearly €95,000 had been collected which had skyrocketed to more than €250,000 by 20:00 CET on Wednesday.
'Reacted badly'
Christophe Dettinger, 37, is a French former light heavyweight professional boxer who twice won the national title in his category.
Footage from Saturday's Gilets Jaunes protest in the French capital — which can be viewed in the above video player — shows him advancing towards and hitting a policeman on a pedestrian bridge.
A second video shows him hitting another policeman until he falls to the ground, where he is then kicked by several protesters.
French Interior Minister Christophe Castaner tweeted that he was immediately detained upon turning himself in and will now "have to answer for his actions" before the judicial system.
One of the officers filed a complaint against Dettinger and was given two days off. The other is off work for 15 days.
Dettinger defended himself in a video, arguing he "reacted badly" after police used tear gas.
'I love my country'
Law enforcement union, SCPN, tweeted on Saturday that it had identified the man caught on camera, posting a photograph of Dettinger, but did not name him.
"Sir, you who beat a man to the ground, have been identified. For a boxer, you do not appear to respect any of the rules. We will teach you those of the penal code," the SCPN said in its tweet.
In a video posted online on Monday by his relatives, including his sister-in-law Gaelle Galou, Dettinger confirmed he was in the video but defended himself.
"Anger rose up in me and I reacted badly" after being hit by tear gas, he said in the video, insisting that he only "defended" himself.
He also said that he has taken part in all eight days of national action by the Gilets Jaunes movement, which protests against inequality and low spending power.
"I am a French citizen, I love my country, I love my homeland," he added.
Dettinger faces up to three years in jail and a €45,000 fine.
Against boxing values
In a statement issued on Sunday, the French Boxing Federation (FFB) condemned the violence as "completely contrary to the values of our sport," and denounced Dettinger's behaviour as "intolerable and shameful."
"The FFB sends its support to the family and loved ones of the officer who was a victim of this individual, but equally to all the security forces who have been on duty these last weeks," it added.