Raw Politics: Does France need a tougher law on protests?
Comments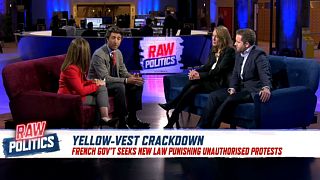 French Prime Minister Edouard Philippe announced on Monday that the government would seek to pass a new law to impose tougher sanctions on unauthorised protests after a Gilets Jaunes (Yellow Vests) march in Paris turned violent.
Fabrice Pothier, chief strategy officer at Rasmussen Global, told Euronews' Raw Politics show that France "needs another set of measures".
"I think we are facing a form of political hooliganism and the government is trying to draw the line between what are legitimate grievances and what are clearly illegal actions and activities," he said.
But French Socialist MEP Christine Revault d'Allonnes-Bonnefoy disagreed.
"We don't need a new law, we need to respect the actual law. We have everything in order in the law, in our justice, to ensure that everything can be protected," she argued
Watch the Raw Politics' debate on the issue in the player above.