Clashes break out at yellow vest protests in Paris
Comments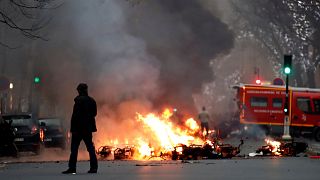 Copyright

REUTERS/Gonzalo Fuentes
For an eigth weekend yellow vest protesters have converged on the Champs-Élysées in Paris.
They remain outraged at the cost of living and President Emmanuel Macron's economic policies.
Saturday began peacefully but degenerated later in the afternoon.
Protesters hurled missiles at riot police barricading bridges over the Seine river and torched rubbish bins.
Officers fired tear gas to prevent hundreds of yellow vests crossing the river and reaching the National Assembly.
One riverboat restaurant was set ablaze and a policeman wounded when he was struck by a bicycle hurled from a street above the riverbank.
In December Paris experienced its worst unrest in more than fifty years - a hundred cars were torched and the Arc de Triomphe vandalised
That led to some concessions by the government over controversial fuel tax rises, but on Friday it dismissed the yellow vests as agitators whose only goal was to topple President Macron.
This weekend some of the protesters were told by organisers to leave their yellow vests at home to better evade the police.
An estimated 25,000 took to the streets nationwide in what was dubbed Act VIII, BFM TV reported, barely 10 percent of the number in the first weeks of protests but higher than last week.